2-18-13
State and university employees from across Montana gathered at the state capitol for the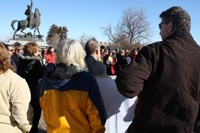 The crowd listens to Eric Feaver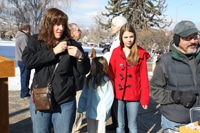 Day of Action participants pin on their "5/5" buttons and get ready to talk to legislators.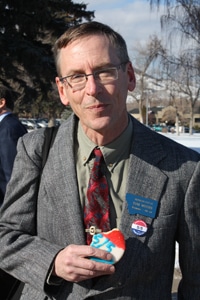 Rep. Tom Woods (D-Bozeman), a supporter of HB 13, enjoys his "5/5" cookie while sporting the "5/5" button.
second Pay Plan Day of Action today.
More than 100 employees gave up their Presidents Day holiday to band together and ask legislators to commit to vote for the negotiated pay plan, House Bill 13. The Day of Action was organized by MEA-MFT and our fellow state employee unions, MPEA and AFSCME.
Gathering in the cold sunshine on the north steps of the capitol, members of the three unions and other state employees cheered several speakers, beginning with Rep. Kathy Swanson (D-Anaconda), the sponsor of HB 13.
"I love you!" Rep. Swanson told the crowd. "Work hard to get this pay raise. Maybe you can afford another carton of milk for your kids, another gallon of gas in your car."
MEA-MFT member Rich Aarstad, an archivist at the Montana Historical Society, noted that state employees have struggled with frozen pay for over four years. The first two-year freeze was voluntary, the second was imposed with the 2011 legislature chose not to pass the state pay plan.
"For two more years, we did more for less," Aarstad said. The money is available in the state budget to fund HB 13, he said. "We know the money is there. There's no place for (legislators) to hide."
The negotiated pay plan in HB 13 provides a long-overdue 5% base increase for all state employees each of the next two years. It also provides a 10% increase in the state's contribution to employees' health insurance.
Chris Abbott, a public defender and AFSCME member, told the crowd that public defenders have a job that's "very thankless and requires a high level of skill and education." The attorneys who serve as public defenders can make far more in the private sector with far less stress, he said.
"Five and five will not make us whole after four years of frozen pay," said MEA-MFT President Eric Feaver. "But less than that will be a step backward of huge proportion."
Dal Smilie, manager of the Park Avenue Bakery in Helena, brought 200 cookies for Day of Action participants to hand out to legislators, decorated to match the red, white, and blue "5/5" buttons that state employees wore.
Smilie said the owners of Park Avenue, Renee and Johnny Kowalski, are both former public employees themselves. "They strongly support you," he told the crowd.
The Kowalskis are among many small business owners across Montana who understand the positive economic impact that state and university employees have on their communities.
Dee de Yong and Susan Mergenthaler, MEA-MFT members and Dept. of Public Health and Human Services employees, have been asking local business owners in Helena to support HB 13. When they spoke to Renee Kowalski, the bakery owner immediately got the connection.
"Renee said, 'If state employees get a raise, they can spend more in my business, and I can give my employees a raise, and they can spend more money in other local businesses," de Yong said.
De Yong and Mergenthaler and other state employees have been taking "We Support State Employees" fliers to local businesses around Helena, asking them to post them. They encourage state employees to look for the fliers and "support the businesses who support state employees."

"The key to this is grassroots – employees reaching out to businesses and also to legislators," deYong said. Take a look at which businesses display the fliers — and please tell them THANK YOU!

Inside the capitol, state employees filled the halls, talking with legislators. Results were mixed: Democratic legislators support HB 13 as introduced, while most Republican legislators say they want to alter the bill by excluding some state employees.
"We're hearing a lot of 'slice and dice'" from Republican legislators, said Steve Eckels, a mental health specialist at Montana State Prison.
Bill status: House Bill 13 was heard in House Appropriations Committee a month ago. The committee has yet to take action on the bill.
What you can do: Please contact members of the House Appropriations Committee. Ask them to "Pass HB 13 as introduced. No amendments. 5 & 5 for all state employees." Thank them for their consideration. You can contact all members of the committee at once from the legislative email system. It's quick and easy.
Learn more about HB 13: Download this fact sheet.
News story on our Day of Action: This article appeared in most major daily newspapers in Helena.
Read about our January Day of Action
Letters to the editor: Rich Aarstad is one of several MEA-MFT members who have written letters to the editor about the pay plan. Read his latest letter below.
Please consider writing a letter to the editor yourself. Want help? Contact MEA-MFT communications director Sanna Porte: [email protected]
Time to respect our state employees
RICH AARSTAD EAST HELENA – FEBRUARY 19, 2013
How long do state employees have to endure being drawn and quartered by the legislature?
HB13 was heard on Jan. 23 and since that time we have gone from rumor to silence. Rumor indicates there is a group of legislators upset that some state employees have received an increase since they ignored our pay plan out of existence in 2011.
To the detriment of those state employees who saw longevity increases, pay adjustments because of job reclassification, and those who were the beneficiaries of the broad band pay plan instituted by the 2005 legislature it isn't about a job well done but rather you didn't deserve any increase because we said no two years ago.
Now the silence. Inaction has gripped the House Appropriations Committee as deals and schemes are discussed behind closed doors, not to do right by state employees but punish those for whom the system worked. Enough! Show the men and women who work for the state of Montana the respect they deserve, the respect they have earned, pass HB 13 and stop looking for ways to punish public employees because they are public employees.