2-9-15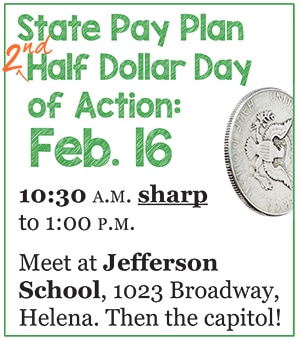 State employees will once again converge on the state capitol Monday, Feb. 16, for the second State Pay Plan Half Dollar Day of Action.
We'll give Montana legislators the message: Passing our state pay plan is good for Montana's communities and economy. It's good for state employees and their families. It's the right thing to do.

Buses will be bringing state employees from Billings, Bozeman, Butte, Anaconda, and Deer Lodge.

Want a ride? Got questions? Contact Morgan Smith, 457-4569 or [email protected]

Day of Action details:
WHERE: Meet at Jefferson School, 1023 E. Broadway, Helena. From there we'll go to the state capitol.

WHEN: Monday, Feb. 16 (Presidents Day)

TIME: 10:30 a.m. SHARP to 1:00 p.m.

About the state pay plan:
The negotiated state pay plan – now in House Bill 13 — provides each Montana state employee:

• 50¢/hour raise in 2015 and 50¢/hour raise in 2016.

• Increases in the employer's contribution to our insurance premium: 10% increase effective Jan. 2016 and 8% effective Jan. 2017.

We need everyone to pull together to get HB 13 passed through the Montana Legislature. You can help! Start by joining us Feb. 16 for the Day of Action!