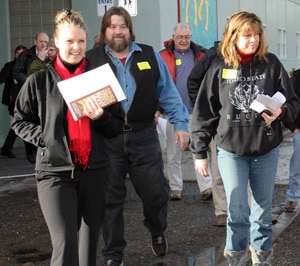 Above: Members head to the capitol to talk to their local legislators.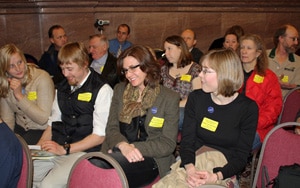 Above: State & university employees at Work That Matters Day of Action news conference.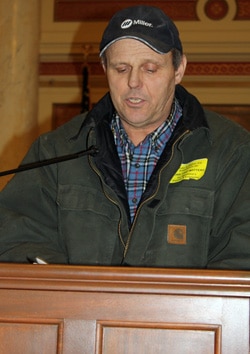 Above: Tim Harris, welding instructor at UM-Helena College of Technology, speaks at the news conference.
Nearly 100 state & university employees gathered for MEA-MFT's Work That Matters Day of Action Jan. 17.
Participants included members of MEA-MFT, Montana Public Employees Assoc., and AFSCME.
They came from Bozeman, Butte, Missoula, Helena, Great Falls, Laurel, and elsewhere to spend their Martin Luther King holiday asking legislators to stop state budget cuts and pass the state pay plan.

MEA-MFT organized the event to make sure legislators heard first-hand from their local constituents about the importance of the budget and the pay plan.
Day of Action participants met at Jefferson School, a block from the state capitol, for a quick briefing. Then they walked to the capitol to talk one-on-one with their local legislators.
Participants told their local legislators about the work they do and why it matters to Montana's people and economy. They spoke against the cuts voted on by the legislature's Appropriations subcommittees last week.
The subcommittees voted to cut state agencies, higher education, and K-12 schools by $500 million below the governor's proposed budget.
State and university employees explained to their legislators that these cuts will destroy hundreds of existing jobs statewide, cripple important public services, and hurt Montana's chances of economic recovery.
Participants then gathered for a news conference, where four union members told their stories and urged the legislature to adopt the governor's budget and the state pay plan we negotiated.
Speakers included MEA-MFT members Kim Newman and Tim Harris of Helena, AFSCME member Doug Rotondi from Butte, and MPEA member Dan Dolan from Butte.
The Day of Action received excellent news coverage statewide. (See below)
We'll be doing this again! MEA-MFT hopes to organize more such events during the 2011 legislative session. "We hope even more members will join us here in Helena to tell our stories, to put a face on those who do work that matters," said MEA-MFT President Eric Feaver. Watch this web site for more information.
NEWS COVERAGE
Read the Lee Bureau newspaper story. (This appeared in Helena, Bozeman, Missoula, Butte, and Billings newspapers)
Listen to public radio news coverage (start at 3:15 mark)

Follow legislative action throughout the 2011 Montana Legislature.