Looks like at least a thousand Montanans from all over the state will attend our No Fooling with our Future Rally April 1!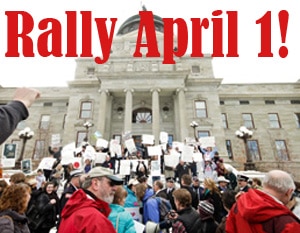 IMPORTANT: Please let us know you're coming to the April 1 rally. E-mail [email protected] and say "I'm coming to the rally."
Be sure to include:
♦ your full name
♦ home e-mail
♦ best phone (home or cell)
♦ whether you need a ride (transportation will be available from several areas of the state)

WHAT: No Fooling with our Future Rally
WHEN: Friday, April 1, 12:00 High Noon
WHERE: State capitol, Helena, north steps (outside)
WHO: MEA-MFT is working with a broad coalition of groups concerned about the damaging cuts. Our rally partners include clergy, small business owners, nurses, students, advocates for people with disabilities, other unions, conservation groups, low-income advocates, the American Indian community, and many others.

CAN'T BE THERE? Take part in our Virtual Rally.
SPREAD THE WORD! Download this pdf, print the flyer, post it everywhere, and recruit friends to come to the rally with you!
Listen to our radio spot. Click here.
3rd time is a charm: Our April 1 event is the third big mobilizing event. Read about our successful Jan. 17 Work That Matters Day of Action and our Feb. 21 Rally to Save Public Services and Education. The April 1 rally will be even bigger and better!
MAKE A SIGN! Please make sure your rally signs are bright, big, on sticks, and double-sided (writing on both sides of the sign). That's for the news media — signs are a crucial way to get our message out.
Watch this site for more rally information.