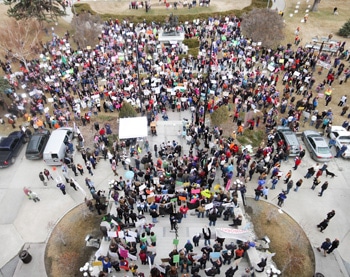 Aerial view of the rally. And people kept on coming!
Apr. 1 – "The money is there. Where are your VALUES?" That's the message Montanans sent to the Montana Legislature at our "No Fooling with our Future Rally." The rally took place at the state capitol in Helena Friday, April 1.
See more rally photos on our Flick site. (Thanks to photographer Chad Trettin and AFT for these photos)
Even more photos at AFL-CIO's web site.
Over two thousand Montanans from all over the state attended the rally. Participants came from Helena, Butte, Billings, Lewistown, Red Lodge, Bozeman, Kalispell, Havre, Miles City, Glendive, Missoula, and all parts between.
MEA-MFT and the Partnership for Montana's Future, a broad coalition of nonprofit groups, organized the rally. Huge thanks to our Partnership partners!
Governor Schweitzer made a guest appearance at the rally — watch YouTube video below of his comments. Thanks to Mike Wessler for this vid!
Here's the same video from a different angle, from KXLH TV.
And here is a great video of the rally that NEA put together. Thanks, NEA!
Finally, here is a short video that we did here at MEA-MFT.
The rally coincided with the MEA-MFT Representative Assembly — over 350 MEA-MFT RA delegates swelled the ranks of rally participants.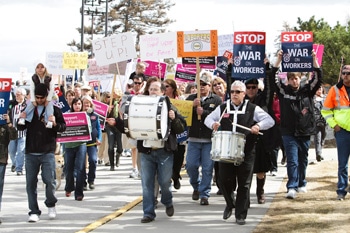 MEA-MFT staffers & drummers Marco Ferro & Larry Nielsen led the march around the capitol.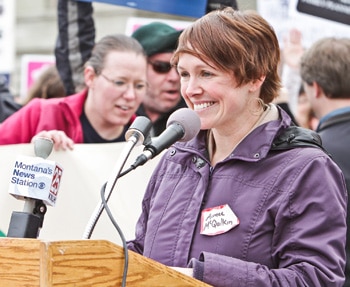 Missoula business owner Aimee McQuilkin talks about the importance of strong public services to businesses.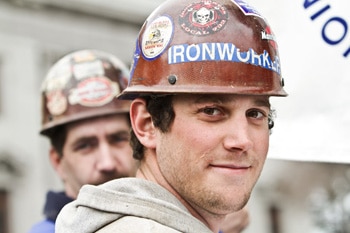 Ironworkers from around the state were among the many union members who participated in the rally.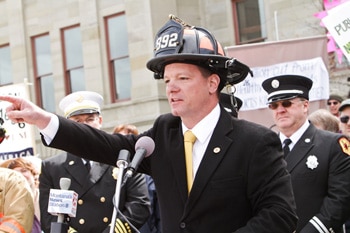 Billings Firefighter Joe Sands talks about the value of public service. More photos at our Flickr site.
Concerned about the legislature's deep cuts to education, human services, children's health
programs, public safety, home heating assistance, and more, rally participants called on the
Montana Legislature to reverse its cuts and pass the governor's budget.
Revenue estimates from Governor Schweitzer's office show the State of Montana had enough revenue to fund the governor's budget, which was austere, balanced, and raised nobody's taxes. Yet the majority party in control of the legislature chose to insist on cutting crucial public services anyway.
Rally speakers talked about the impact of the legislature's proposed cuts on Montana citizens and the state's economy. The cuts would hurt Montana's most vulnerable people, destroy hundreds of existing jobs, and threaten the state's fragile economic recovery. The ripple effects will harm local economies across the state.
Rally participants included Montana faith leaders; nurses; small business owners; firefighters; veterans; union members; conservationists; advocates for children, low-income people, the elderly, and people with disabilities; students; the American Indian community, and others.
Buses, vans, and carpools brought Montanans from Billings, Bozeman, Butte, Great Falls, Havre, Kalispell, and Boulder.
Rally speakers included the following — thanks to all these great Montanans!
Quint Nyman, Exec. Dir., Montana Public Employees Assoc.
Eric Feaver, President, MEA-MFT
Dan Krebill, Co-Pastor of First Presbyterian Church in Bozeman, Board Member of Montana Organizing Project, President of Montana Assoc. of Churches
Denise Juneau, teacher and State Superintendent of Public Instruction
Kayla Miller, MSU-Billings student
Aimee McQuilkin, business owner, Betty's Divine in Missoula
Joe Sands, Billings firefighter
Kim Rickard, Helena, Vice President, Montana AFL-CIO
Stacey Anderson, Helena, plus her children, Gillian & Rhys Anderson-Foster, and husband, Sky Foster
Travis Hoffman, Missoula, advocate for people with disabilities
Sen. Dave Wanzenreid, Missoula
Wendy Barnhouse White, Great Falls, business person and parent
Sydney Treadway-Haskell, Licensed Addiction Counselor & Layla Coffman, Treatment Technician, at Montana Chemical Dependency Center (MCDC) in Butte.
Lita Pepion, Billings, mother, grandmother, tribal member, business owner, and board member for Indian People's Action
The rally also rocked with music. Thanks to these musicians!
MEA-MFT members Amanda & Kevin Curtis, Butte
AARP volunteer Del Lonnquist, Helena
Bob Brock, IBEW, Butte
Thunder Horse Singers, Helena and Great Falls
This was our second big rally in the 2011 session. Read about the Feb. 21 Courage Not Cuts Rally.
MEA-MFT also held a Day of Action January 17, for state employees and higher education members.
MEA-MFT also assisted with a rally to save the Montana Veterans Home in Columbia Falls, and a rally for state employees. It was a big session for rallies!
THANKS TO EVERYONE WHO ATTENDED THE RALLIES! It made a difference. The legislature reversed about three-quarters of the cuts before the end of the session.
RALLY NEWS COVERAGE (News media folks say "at least 1500" attended the April 1 rally. But we had people up on the capitol balcony counting — it was more than 2,000.)
Crowd Rallies Against Budget Cuts (Lee newspapers)
Hundreds Rally for Public Funding at Montana's Capitol (GF Tribune)