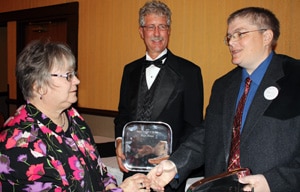 From left: Janet Baum, Grant Mitman, and Rich Aarstad
More than 350 MEA-MFT members from across Montana honored three of their peers at a gala celebration in Helena April first.
The celebration took place as part of the union's annual Representative Assembly.
MEA-MFT's members of the year were chosen for their professionalism on the job and their leadership as union members.
This year's honorees include:
• MEA-MFT Education Support Professional of the Year Janet Baum, a school secretary in Billings.

• MEA-MFT Public Employee Member of the Year Rich Aarstad, a historian at the Montana Historical Society in Helena.

• MEA-MFT Faculty Member of the Year Dr. Grant G. Mitman, a professor in the Department of Biological Sciences at Montana Tech in Butte.

"These three members represent the powerful impact that Montana public employees have in our state," said MEA-MFT President Eric Feaver.
"Serving our children, preserving our history, and remediating our environment — these members' contributions go far beyond their job titles."
Janet Baum's co-worker Deana Elder introduced her at the celebration, noting that Baum has been a secretary in Billings for 27 years, working in many different schools and departments. "There's not a whole lot that gets by Janet," Elder said.
Baum has been a long-time advocate for recognizing school support staff as the professionals they are, Elder said. "She has shown us that right in the middle of 'RESPECT' is 'ESP' (education support professional), and we have Janet to thank for that."
As president of her local union, the Billings Classified Employees Association, for 11 years, Baum helped build union membership to over 400 members, enough to secure BCEA its own seat on the MEA-MFT board of directors, which Baum held for several years.
Baum said she started as a volunteer in her children's school. "I never dreamed that volunteering in the school library would turn into a career," she said.
Speaking of her fellow support staff, including custodians, bus drivers, paraprofessionals, school secretaries, and others, Baum said, "There are so many classified staff who are worried about their jobs and are afraid to stand up for themselves for fear of losing their jobs. They need an advocate."
Thanks to Baum's advocacy, BCEA members are some of the best-paid classified staff in Montana. She has helped re-write dozens of job denoscriptions, with the result of "rewarding people for faithful years of service."
In accepting her award, Baum said, "I am thankful for the friends I've made [in the union] and consider them extended family."
Introducing Rich Aarstad at the celebration, his co-worker, Zoe Ann Stoltz, described Aarstad as "incredibly self driven" both as a historian and as the president of his local union.
Aarstad's job is preserving Montana's history for generations to enjoy. As an archivist/oral historian, he processes donations from citizens–including private letters, diaries, and business records—and holds workshops to encourage people to conduct oral history interviews.
According to co-worker Martha Kohl, Aarstad has a "contagious enthusiasm" for Montana history. "He does a great job working with the public—from school children to adults," she said. "He is also creative about finding ways to stretch the Historical Society's thin resources so we can do the best job possible preserving Montana history for future generations."
Aarstad was integral in creating a project encouraging Montana counties to celebrate their centennials and encouraging community members to capture their local history, especially through oral interviews.
With a new grant from Humanities Montana, Aarstad will oversee an oral history project documenting Montana labor history from 1956 to 2000.
His own union experience began when he spent a decade working as a union line cook in his hometown of Libby. He graduated from UM-Missoula with a master's degree in history and wrote his master's thesis on the 1917 I.W.W. labor strike.
"This is an amazing union," Aarstad said of MEA-MFT at the Members of the Year celebration.
Referring to MEA-MFT's huge "No Fooling with our Future Rally" that took place at the state capitol the same day as the celebration, he said, "As a historian, I can't help but think that somewhere in Butte, Frank Little is smiling just a bit." (Little, a labor organizer at the time of the I.W.W. strike, is considered a union hero.)
Introducing Dr. Grant Mitman at the celebration, MEA-MFT staff member Melissa Case noted ironically that he has "all kinds of degrees in marine biology." While some might wonder how marine biology applies to Montana, Case said, Mitman uses that knowledge to clean up the environment – specifically, studying the ability of algae to remove heavy metal contaminants in Montana's infamous Berkeley Pit.
Mitman, who goes by the nickname "Dr. Algae," said, "I am so honored to have been selected as the MEA-MFT Faculty Member of the Year. We have many members who work extremely hard to make our university system great."
Mitman recalled the difficulty of organizing a union at Montana Tech, where efforts to organize failed twice. But eventually, he said, "faculty were told they would be fired if they voted for union membership." That inspired several faculty members to change their votes from no to yes, resulting in enough votes to form a union.
"Because of Grant, we now have union representation at Montana Tech and at MSU-Bozeman," said Case. "So MEA-MFT has 100 percent representation on all of Montana's higher education campuses."

Congratulations to all of these Members of the Year!