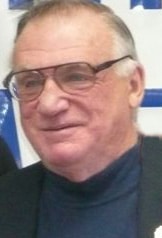 Jim McGarvey
Apr. 19, 2011 – Jim McGarvey, executive secretary of the Montana State AFL-CIO, announced plans to retire this week.
McGarvey is the former vice president of MEA-MFT, and former president of the Montana Federation of Teachers, which merged with the Montana Education Association in 2000 to form MEA-MFT.
McGarvey wrote the following announcement of his retirement April 18:
"As you know, our constitutional convention is May 12th, 13th , and 14th . This is the year that we elect our nine board members and three board members at-large. Yesterday, I experienced two life changes. I turned 69 years old, and I informed the Montana State
AFL-CIO Executive Board that I would be retiring at the end of my current term.
"It has been 55 years since I joined my first labor union at the age of fourteen in Butte, Montana. In my early years, I was fortunate to have a union job through most of high school and all of college. Not many people had the opportunity to benefit from the strength of labor unions as much as I did growing up.
"I had the opportunity to work with, and learn from, some of the greatest labor leaders and politicians this state had to offer. More importantly, I was able to work with all of you to help build one of the strongest, most participatory state federations in the country.
"I'm proud to be leaving the Montana State AFL-CIO with the highest density of labor union affiliation of any state federation. The Montana State AFL-CIO membership has grown from just over 28,000 members to its current size, approaching 44,000 in the last six years.
"I can't tell you how good I felt all these years to be able to preach the virtues of the union movement. I could say a lot more about the people, issues, fun, camaraderie… but too many of you have told me over the years to make it short!
"So, with that in mind, I plan to not seek re-election at this convention, thus retiring from a wonderful experience that was my lifetime passion."