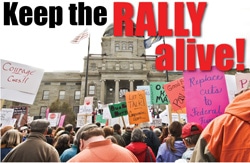 On April 1, 2011, more than 2,000 Montanans came to the state capitol in Helena for the No Fooling with Our Future Rally.
They came to tell the Montana Legislature to stop cutting the public services that help Montana's people and economy thrive.
MEA-MFT organized the rally along with our allies in the Partnership for Montana's Future, a broadbased coalition of grassroots groups.
It made a difference. The legislative majority finally reversed many of the worst budget cuts.
This was the biggest rally anyone in Montana can remember. It was one of several the MEA-MFT organized along with the Partnership.
Watch this short video about the rallies.
The April 1 rally was just the beginning. We need to take Montana back from the politicians who would choose to turn our state into a third world country.
See more photos and videos of the rally.
You can help keep the spirit of the April rally alive. Here's how:
1. Talk with your family, friends, neighbors about the importance of public services and public education to Montana's economic well being.
2. Register to vote, and plan on voting in the 2012 elections. Let's never have another legislature like 2011!
3. Vote carefully. Watch for information from MEA-MFT on candidates who support public employees and the important work they do. Share that information with friends and family.
4. Consider giving to MEA-MFT's Committee On Political Education (COPE). COPE helps elect Montana candidates who support strong public education and public services. We don't use member dues for this purpose, just voluntary donations from MEA-MFT members and staff. Learn more about COPE and how you can help.
Keep the rally alive!