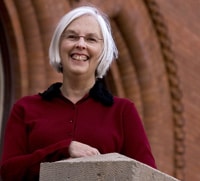 Delena Norris Tull
Montana Professor of the Year goes outside the box
By Mary Ellen Flannery. NEA Office of Higher Ed
Students of MEA-MFT member Delena Norris-Tull know to pull on their boots before class. This University of Montana Western (UMW) education professor is likely to have them tromping through snow in the pursuit of science learning activities that will enliven their own classrooms someday.
"I warn them from the start that we'll be going outside at random times – and random times often are very cold here. This is Montana!" said Norris-Tull. "But they all end up saying, 'Gosh, it's so easy to take your kids outside.'"
Norris-Tull, who teaches science methods to the state's future elementary and secondary teachers, always is thinking of those future students. She's always thinking about ways to engage them in a subject that, despite the disregard of the No Child Left Behind (NCLB) law, has the potential to reinvigorate America's economy and environment.
It's that focus that earned the attention of the Council for Advancement and Support of Education (CASE) and the Carnegie Foundation for the Advancement of Teaching, whose panel of peers recently honored Norris-Tull as Montana's Professor of the Year.

"[These professors] emphasize learning not just teaching, inspiring not just professing and exploring not just explaining," said John Lippincott, president of CASE. "In short, they are exceptional representatives of a noble profession."
Last year, the national award was won by one of Norris-Tull's colleagues at UMW, geology professor Rob Thomas. Their joint success is proof that UMW's new, focused "Experience One" block schedule, which requires students to take one – and only one – class for 18 days, is producing great teaching and learning, Norris-Tull said. It's the only public university in the country with that schedule, which allows future teachers to spend weeks in schools and also reflect daily about what they've learned.
"Every day, we're thinking about how they can turn around what they learn here and use it with their own kids," she said. "How do they present content without boring them to death?"
This isn't a challenge for Norris-Tull herself. "Professor Norris-Tull takes her desire for knowledge and love for nature and combines them to take her classroom beyond the four walls," said recent graduate Kirsten Morasko to the UMW News Bureau. "I will forever take the advice from professor Norris-Tull that learning can take place beyond the classroom and that discussion is key to engaging the students."
Norris-Tull, a former naturalist at state parks in Texas and Michigan, taught at the University of Alaska Fairbanks for 11 years before joining UMW's faculty. While in Alaska, she traveled frequently to isolated, sometimes snowbound rural villages. More recently, Norris-Tull has been working in the field in southwest Montana, helping teachers in the area around Butte to understand the impact of the mining industry.
"That has been really rewarding," she said.
Children are natural scientists, Norris-Tull said. And, presented with the right instructional strategies and responses, they will thrive in science class – asking questions, making guesses, and learning more about the world they live in. But there are still tough challenges ahead for Norris-Tull's future students, at least partly because of federal education law, which seems not to value science or social studies much.
With its exclusive focus on math and reading standardized test scores, NCLB is the "most detrimental legislation to our citizenry in my lifetime," Norris-Tull said. "It's basically depriving our children of what they need to learn."

"For nearly 10 years, schools have focused almost exclusively on reading and math, and science and social studies got left way behind," Norris-Tull said. It's a huge loss for students – and the country they live in, she added. "How can students make decisions about important science if they don't understand it? How can they know how to vote if they don't know anything about social studies?"

With Congress poised to reauthorize NCLB this year, teachers have the chance to demand a richer program of study for their students. (Visit www.educationvotes.org to ask your Congressman to end the obsession with high-stakes test scores and promote a richer curriculum.)
In the meantime, Norris-Tull and her colleagues do what they can to make future teachers understand their obligations. "We really try to get our students to understand that, even though there's this strange legislation out there, we need to provide a rich curriculum to all of our students."
Congratulations, Delena!
(Thanks to Mary Ellen Flannery for permission to reprint this article.)