A class act doing work that matters!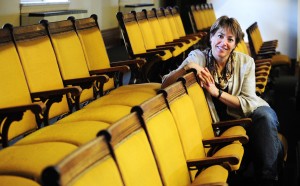 Carolyn Sime (Eliza Wiley IR photo)
July 21 – Carolyn Sime is one classy Fish, Wildlife, and Parks biologist and MEA-MFT member/leader who knows better than almost anyone what it's like to walk into a room of hostiles to defend state and national wildlife policy – as the law requires. Plus, she has the skill and dedication to find consensus even in those tense situations.
Poised, professional, at ease in the woods and public forums, FWP and the State of Montana will miss Carolyn Sime . . . and so will MEA-MFT.
We wish her the best as she pursues a new career in law.
Read the Independent Record story about Carolyn.