Two Great Falls teachers chosen as finalists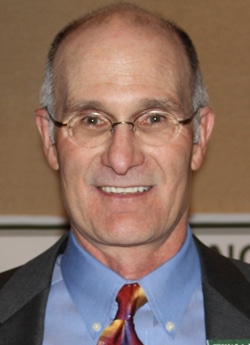 Tom Pedersen didn't start out to be a teacher. He planned to become a doctor. But when a serious illness interrupted his medical studies, he got a teaching degree and took a temporary job teaching science at Capital High School in Helena to pay his medical school loans.
He had no intention of staying — he planned to return to medical school as soon as possible. But "life is what happens when you are busy making other plans," Pedersen said, quoting John Lennon.
"I fell in love with teaching."
So Pedersen gave up the position saved for him in medical school and stayed at Capital High, devoting the next 35 years to his students and fellow teachers. "I never looked back," he said.
In those years, Pedersen has prepared many students to become doctors themselves – along with nurses, ecologists, biologists, and chemists. He has accumulated an eye-popping list of awards for teaching and coaching track and field.
And this September, Pedersen received the highest honor a Montana teacher can achieve: he was named Montana Teacher of the Year for 2012.
"It's humbling," Pedersen said. "It's a real honor because we have so many outstanding teachers in this state who do the work every day with no notoriety or praise."
He continued, "This award gives Capital High its due. This school is a great place. Everyone from administrators to support staff have fostered my growth as a teacher and allowed us all to be the best teachers we can be. This is Capital High School's award."
An interview committee composed of 2011 Montana Teacher of the Year Paul Andersen, other educators, a parent, a high school student, and representatives from the Montana Board of Public Education and Office of Public Instruction chose Pedersen from among three finalists on September 17.
The Montana Teacher of the Year program annually recognizes a teacher who exemplifies the best in the teaching profession. The program is sponsored and administered by the Montana Professional Teaching Foundation.
Pedersen currently teaches Honors Biology II (a co-credit anatomy and physiology class through the University of Montana) and Science Seminar. He greets his students every day with humor, enthusiasm, and high expectations. He said he aims to motivate students to become "life-long learners, passionate about this planet, and to stay curious, motivated, and filled with a sense of wonder."
Pedersen's innovative and rigorous science classes deliver experiences, not just lessons, said Elisabeth Hudnutt, principal of Capital High School.
"His students have opportunities to bring together the academic, scientific, natural, and human worlds and to understand how they interface," she said.
Setting minds in motion: Former student Aaron Reynolds said Pedersen ("T-Ped," as his students affectionately call him) is "unmatched in his ability to set a mind in motion." Pedersen reaches out to all students, said Reynolds, "from some of the most troubled, struggling academic scholars to highly intellectual minds requiring significant challenge."
"I believe all students have the ability to learn," Pedersen said.
Pedersen makes it a point to personally connect with each student during the week. He combines laughter in the classroom with an emphasis on personal discipline, a strong work ethic, motivation, and determination.
"His drive and focus are unwaveringly on his students," said Hudnutt. That's largely why Pedersen has received the Helena Education Foundation's Distinguished Educator award every year since the award program began nine years ago, she said.
The Distinguished Educator award is especially significant because nominations must come from graduating seniors, who nominate their most inspirational teachers, Hudnutt said.
Pedersen "teaches much more than science," Hudnutt said. "He communicates to students how to become contributing members of society and critical thinkers and voters. He encourages students to think for themselves, and to stand up for their beliefs."
"I give students my time," Pedersen said. "My door is always open. I push students to their limits while reassuring them that their hard work will pay off and they will succeed."
Real-world learning: Pedersen also pushes students out of doors and into the natural world. "My best hands-on lab activities include science in nature," he said.
His Honors Biology II students work in the field monitoring water quality and forest health. They record their data using the scientific method and write stewardship management papers.
They also learn to listen and read at the college level, comprehending high-tech DNA and human physiology and anatomy labs.
His Science Seminar students tackle hot-button science issues and learn the Socratic Method, where they are encouraged to question any viewpoint or guest speaker as long as it is done respectfully. The class culminates in field trips to Glacier and Yellowstone National Parks and Lewis & Clark Caverns.
"I really feel you can learn about nature, from nature, in nature," Pedersen said.
Pedersen's teaching continues throughout the summer, working with both students and teachers through projects such as the Helena National Forest Youth Forest Monitoring Program and Forest For Every Classroom.
He has also has spent countless hours – often unpaid – creating and delivering top quality professional development for other teachers, helping them improve their teaching methods, classroom management, and student/teacher rapport.
To this day, Pedersen credits the four science teachers at Capital High School who encouraged him to stick with teaching 34 years ago: Harland Coverdale, Marilyn Alexander, Pat Johnson, and Ron Elliot. "They took me under their wing," he said.
He credits his father, too, another teacher and coach who was "a great role model."
Community spirit: Pedersen encourages his students to volunteer in the community, and he believes in modeling that behavior. He has served on many boards and organizations, including the Montana Environmental Education Association board, Forest For Every Classroom board, Shodair Genetics Hospital Institutional Review board, and others.
He volunteers at St. Peter's Hospital and has facilitated a support group for returning chemically dependent students.
As Montana's 2012 Teacher of the Year, Tom Pedersen will represent Montana at the National Teacher of the Year event. (The 2011 Montana Teacher of the Year, Paul Andersen of Bozeman, was one of four finalists in this year's national event.)
Pedersen will also serve as an ambassador for the teaching profession. He hopes to encourage other teachers to "start a revolution of the mind and human spirit with your students, guiding them to redesign designs, reinvent inventions, and think their way out of the problems we have placed upon their generation. Teaching is a sacred profession!"
Teacher of the Year Finalists: Finalists in the 2012 Montana Teacher of the Year event are Amy Konen, a literacy, math, and reading intervention teacher at Mountain View Elementary in Great Falls, and Beth Thomas, a science teacher at North Middle School in Great Falls.
Don't miss the celebration: The Montana Professional Teaching Foundation is sponsoring the Montana Teacher of the Year Celebration, honoring Tom Pedersen, Beth Thomas, and Amy Konen. If you're attending the MEA-MFT Educators' Conference, be sure to come to the celebration. Details: Thursday, October 20, 2011 ~ 6:00-8:00 P.M., Hilton Garden Inn, 3720 Reserve Street ~ Dinner & Cocktails.
More about Tom Pedersen: stories and videos: