Oct. 28 – The vote is in, and history has been made: MEA-MFT members in the Associated Faculty of Montana State University (AFMSU) have ratified their first collective bargaining agreements. Members voted on the agreements Wednesday, Oct. 26. The vote was counted today at MSU.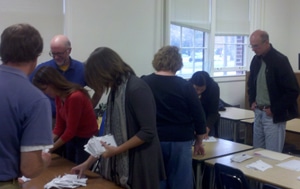 MEA-MFT members at MSU-Bozeman count ratification votes Oct. 28.
AFMSU represents approximately 400 tenure track and 200 non-tenure track faculty at MSU. Two separate collective bargaining agreements were negotiated over a period of 18 months between union members and MSU management: one for tenure track faculty and one for non-tenure track faculty.
Both agreements were ratified in the faculty vote.
"The significant majority of our members voting YES for the collective bargaining agreements demonstrate the strength of faculty coming together with a unified voice," said Sandy Osborne, professor of family and consumer sciences and president of the tenure track faculty union.
"Now faculty concerns are codified and secured in this collective bargaining agreement," Osborne said. "Many thanks to our AFMSU members."
Kari Cargill, non-tenure track faculty in microbiology and president of the non-tenure track faculty union, said, "These two collective bargaining agreements, for tenure track and for non-tenure track faculty, are the result of much dialogue over several years between a diverse group of faculty, and with administration. It is rewarding to now have them ratified by the faculty. Our thanks to all who participated in so many ways."
Members of the union's two bargaining teams included faculty from a wide variety of MSU's departments and colleges.
"The teams spent a huge amount of time learning about the issues important to different faculty and writing these agreements," Osborne said. "However, the agreements reflect the hard work of all our members. Members filled out surveys and gave feedback to the bargaining teams throughout the process. The teams listened and steered the ship based on the information our members provided. Members set the course."
While the agreements deal with compensation issues such as salary and benefits, they also give faculty a voice in issues such as workloads, academic freedom, and intellectual property, Cargill noted. "Having a strong voice is what a union is all about," she said. "It allows us to work together with management on a higher level. That's good for MSU, it's good for faculty, and it's good for our students."
MSU faculty voted to create a union and affiliate with MEA-MFT – the statewide union for faculty and other public employees – in April 2009. Bozeman was the last campus in the Montana University System without a faculty union.
"We are delighted our members at MSU-Bozeman have succeeded in negotiating and ratifying two contracts," said MEA-MFT President Eric Feaver.
"This is the culmination of several years of very hard work, organizing and building a local, bargaining and ratifying two contracts. It's a national model of how a union can work together for the benefit of its members and work collaboratively with the administration of the university and the University System. We are grateful to all the parties who helped make this happen — especially our members."
Bargaining team members for AFMSU included the following:
Tenure Track Bargaining Team:
• Kristen Intemann, History and Philosophy
• Sandy Osborne, Family and Consumer Sciences
• Aleks Rebane, Physics
• Bok Sowell, Animal and Range Sciences
Non-Tenure Track Bargaining Team:
• Kari Cargill, Microbiology
• Jess Carroll, English
• Chere LeClair, Architecture
• Karen Leech, Music (retired)
• Colin Shaw, Earth Sciences
• Dan Wise, Film and Photography