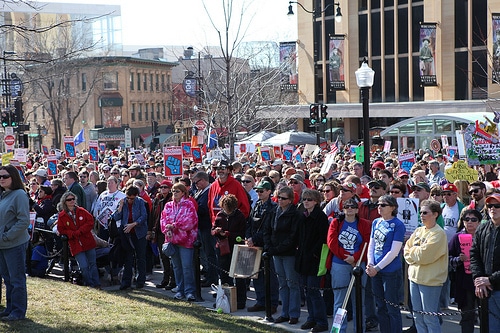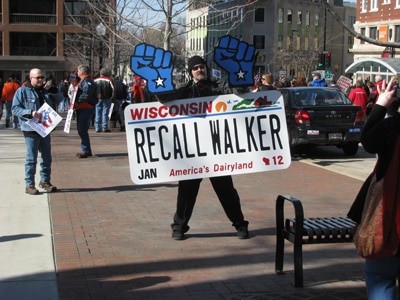 Scenes from Reclaim Wisconsin rally. Photos courtesy of Wisconsin AFL-CIO
On Saturday March 10, 2012, more than 62,000 Wisconsinites returned to their state capitol to mark the one year anniversary of the passage of Gov. Walker's union-busting bill.
Union members, working families, retirees, veterans, students, and other supporters of workers' rights stood together at the "Reclaim Wisconsin" rally.
Journalist and Wisconsin native John Nichols noted that the crowd came from "every small town, every village, every city to say in one voice, 'Wisconsin believes that workers' rights are human rights!"
The event rally hearkened back to a year ago, when an estimated 100,000 people descended on the Capitol Square in Madison, Wisconsin to show their solidarity in opposition to legislation that had been signed by Gov. Scott Walker taking collective bargaining rights away from Wisconsin public employees.
The 2011 rally is believed to be the largest in the state's history. It acted as the transition date from occupying the square and state house to actively seeking the recall of Governor Walker and a number of state senators seen as enablers to the Governor's agenda.
Two of those senators were recalled over the summer of 2011. The Governor, his Lt. Governor Rebecca Kleefisch, and four senators will all likely face recall elections in the coming months.
Wisconsin citizens have gathered one million signatures to recall Governor Walker himself.
Read more and see videos here.
(portions of this report from Workers Independent News, AFT, and Wisconsin AFL-CIO)