Money talks.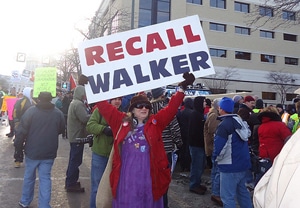 In Wisconsin, money carried the day in the recall election against Gov. Scott Walker.
Super-rich donors including the billionaire Koch brothers spent hundreds of millions to help Walker defeat challenger Tom Barrett, mayor or Milwaukee, by 53 percent to Barrett's 46 percent of the vote.
In the process, however, working families in Wisconsin and nationwide pulled together as never before. Through the group We Are Wisconsin, they created an infrastructure and engaged members and voters in an unprecedented way.
NEA and AFT members and their many coalition partners in Wisconsin constructed a cutting-edge, grassroots field operation that recruited 36,478 unique volunteers, knocked on more than 1.18 million doors, engaged new voters, created coalitions like never before and organized ward by ward and county by county. They vow to build on that for November.
Walker is only the third governor in American history subjected to the a recall.
The recall effort began after Walker and his friends in the Wisconsin state senate forced through an extremist anti-worker agenda last year — gutting the collective bargaining rights of public employees.
Pro-working family Democrats did manage to gain control of the Wisconsin Senate.