7-30-12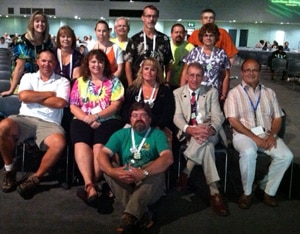 MEA-MFT delegate to the AFT convention
Fifteen folks from MEA-MFT participated in the biennial AFT convention July 27-30 in Detroit, MI.
They joined more than 3,000 delegates from across the country, helping set direction for our national affiliate.
Among other things, delegates passed a series of resolutions to increase educational and economic opportunity, including resolutions:
¦ Taking a stand against America's fixation on high-stakes testing;
¦ Redoubling the union's commitment to putting Americans back to work, stabilizing communities, and investing in infrastructure and public services;
¦ Developing a nationwide anti-bullying hotline for students, parents and support staff to receive support and counseling to keep schools safe;
¦ Opposing voter-suppression laws that deny Americans a voice in our democracy;
¦ Affirming the union's support for the Patient Protection and Affordable Care Act, and advocating for safe staffing levels to ensure patients receive the best care;
¦ Ensuring all children have access to high-quality early learning programs; and
¦Challenging the corrosive impact Citizens United is having on our democracy.

You can read about the convention and see videos of keynote speeches at the AFT web site.
Delegates from MEA-MFT included:
Rich Aarstad, Montana Federation of Historical Society Workers

Jill Cohenour, The Federation of Public Health & Human Services

Steve Eckels, Federation of Montana State Prison Employees

Michael McCaughey, Federation of Montana State Prison Employees

Linda Nichols, Federation of Montana State Prison Employees

Michael Weist, Federation of Montana State Prison Employees

Kyla Gardiner, Department of Revenue

Patricia Yuhas, Department of Revenue

Ryan Faulk, Great Falls Education Association

Kate McAuliffe, Helena Education Association

Tammy Pilcher, Helena Education Association

Michael Thiel, Kalispell Education Association

Eirk Burke, MEA-MFT

Eric Feaver, MEA-MFT

Marco Ferro, MEA-MFT