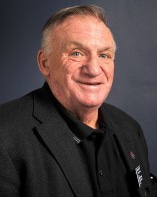 Aug. 28, 2012 – Jim McGarvey, former vice president of MEA-MFT, passed away this morning.
Jim served for many years as president of the former Montana Federation of Teachers before it merged with the former Montana Education Association, creating MEA-MFT. He later served as president then executive secretary of the Montana AFL-CIO. He was a vice president of the American Federation of Teachers (AFT).
MEA-MFT President Eric Feaver said this about McGarvey's passing:
Jim was a colossus. Born to organize. His legacy, MEA-MFT, the largest union in Montana by far, speaks for itself. Jim may have in fact organized more workers than any labor leader in Montana history.
He firmly believed collective bargaining was the workers' only viable path to competitive salaries and benefits – in today's political terms, the middle class.
He made friends and enemies, and then friends of enemies. Jim was all about personal relationships.
In the beginning, we warred against each other . . . then in time, we warred together, joined at the hip in common cause. He will be remembered and missed.
Eric Feaver wrote this memorial to JIm.
Former MEA-MFT Executive Director David Smith wrote this editorial about Jim.
News story about Jim's passing.
MEA-MFT member-leader Dick Barrett wrote this blog about Jim. (This was written when Jim retired as vice president of MEA-MFT and moved on to become the executive secretary of the Montana AFL-CIO.)
The American Federation of Teachers published the following about JIm:


AFT remembers former vice president Jim McGarvey [Angela Callahan]
Jim McGarvey, former AFT vice president, longtime labor leader and former head of the Montana Federation of Teachers, died Aug. 28. McGarvey served as president of the Montana AFL-CIO and helped unify the 6,500 members of the Montana Federation of Teachers with the 9,500-member Montana Education Association in 2000 to create the largest affiliate in the state AFL-CIO.
"Jim McGarvey was the consummate union organizer; he brought together all of the constituencies—teachers, school-support employees, higher education and healthcare professionals, and public employees—into the MEA-MFT," said AFT president Randi Weingarten. "He will be remembered as an activist who worked tirelessly on behalf of the people we serve, working families and our members."
A native of Butte and lifelong trade unionist, McGarvey said last year that "it has been 55 years since I joined my first labor union at the age of 14 in Butte." He began his career as a high school teacher and became president of the Butte teachers union in the early 1970s.
McGarvey was elected to the AFT executive council in 1976 and served as chair of the AFT Public Employees program and policy council. In 1977, he became a member of the Montana AFL-CIO executive board, and was elected president in 2001. Throughout his tenure, McGarvey worked to expand the ranks of the Montana AFL-CIO from 28,000 to nearly 44,000 by bringing together members from various unions around the state. He later served as executive secretary of the state AFL-CIO.
When he retired from his post at the Montana AFL-CIO in April 2011, McGarvey said in an MEA-MFT statement: "I can't tell you how good I felt all these years to be able to preach the virtues of the union movement. I could say a lot more about the people, issues, fun, camaraderie … but, too many of you have told me over the years to make it short."
"Jim McGarvey was a colossus. He was one of the great labor leaders in the state of Montana," said MEA-MFT president and AFT vice president Eric Feaver. "He grew the labor movement in this state for 40 years. Without him, there would be no MEA-MFT. His passing represents the passing of an era, but I know he would want everyone to continue his great work."
McGarvey is survived by his wife, Suzanne, three children and several grandchildren.