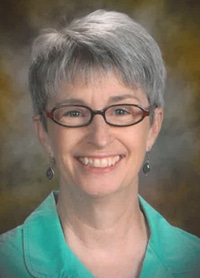 Eileen Sheehy
All three 2013 Teacher of the Year finalists will be honored at a gala celebration during the MEA-MFT Educators' Conference in Billings October 18. All conference participants are welcome to this free event. Learn more here.
---
9/24/12 – Eileen Sheehy was watching the Emmys when she got the call telling her she had been selected as the 2013 Montana Teacher of the Year.
"I felt like I'd won (an Emmy) myself," she laughs. "I couldn't believe how great it felt to be validated that way."
To be named Teacher of the Year is the highest honor a Montana teacher can achieve. Each year, the Montana Teacher of the Year program recognizes a teacher who exemplifies the best in the teaching profession. The program is sponsored and administered by the Montana Professional Teaching Foundation.

Sheehy has taught in Montana for 27 years, in subjects including Journalism, U. S. History, U.S. Government, Newspaper, Yearbook, World History, and Global Studies.
For the past 12 years, she has taught U.S. Government, Advanced Placement (AP) U.S. Government, and Yearbook at Billings West High School.
Sheehy has won many teaching honors, including National Board Certification (the highest level of certification a U.S. teacher can earn), a James Madison Memorial Foundation Fellowship, and 2007 Billings Education Association Teacher of the Year. She has helped her students produce many national award-winning publications.
She says the key to effective teaching for her is developing strong relationships with each student. That lesson was hammered home when she transferred from Billings West High School to the Billings Career Center, a vocational emphasis high school, in 1991.
"At first I was a dismal failure at the Career Center," she says. "Meeting the challenge of teaching students whose educational interests were mechanical or artistic, not what we called 'academic,' made me a teacher. I learned it was not enough to know my stuff – I had to know their stuff, too."
Finding out what intrigued those students – like the workings of Corvettes and sound systems – showed Sheehy how to make connections for them when she taught about things like the workings of government.
Her experience at the Career Center not only shaped her teaching style, it also kindled a passion to teach every student to understand and participate in their government.
"While some of my students have gone on to careers in politics or in the law, knowing that I've helped ordinary citizens become participating citizens by demystifying government for them is my biggest reward," she says.
Former student Porter Clark Hanna describes walking to Sheehy's classroom every day "excited for what is next." He wrote in a letter of support, "Eileen always cared about us enough to strive to make us laugh, to make us learn, but also to take her students seriously with real interest in our opinions and doubts."
Patty Gesuale, parent of one of Sheehy's recent Yearbook students, credits Sheehy with helping her daughter persevere and thrive during a tough time in her life.
"Teaching students how to do layouts, write copy, typeset, and edit is one thing," Gesuale wrote. "But helping students take those basic skills and embellish them with their own unique talents; creating a nurturing environment that encourages students to stretch beyond their comfort zones; orchestrating different talents and individual thought to contribute to a common goal…these are the things Ms. Sheehy did that set her apart as an outstanding teacher and the best of her profession."
Educational background:
Eileen Sheehy holds a B.A. in Journalism and an M.A. in Interdisciplinary Studies (History, Political Science, Education) from the University of Montana.
Teacher of the Year process:
Teachers nominated to be Montana Teacher of the Year undergo an exhaustive application process. Three finalists are chosen for interviews. This year's interview committee was composed of 2012 Montana Teacher of the Year Tom Pedersen, a science teacher in Helena; other distinguished Montana educators; a parent; and a high school student.
"Eileen Sheehy is a bright, articulate, passionate teacher," says Pedersen. "It shows in her resume and in her ability to teach all levels of kids. Whatever education throws at her, she's up for it and game to tackle the tough issues in education today."
As Montana's 2013 Teacher of the Year, Eileen Sheehy will represent Montana at the National Teacher of the Year event. She will also serve as an ambassador for the teaching profession.
Finalists:
Finalists in the 2013 Montana Teacher of the Year event are LeAnne Yenny, a math and science teacher at Sacajawea Middle School in Bozeman; and Linda Ballew, a media literacy and journalism teacher at Great Falls High School.
Sheehy, Yenny, and Ballew all will be honored at a gala celebration October 18 in Billings.
The Montana Professional Teaching Foundation sponsors the celebration in conjunction with
the annual MEA-MFT Educators' Conference.
###
The Montana Professional Teaching Foundation, based in Helena, works to enhance the teaching profession and promote quality education in Montana. The Montana Teacher of the Year program is one of several events and projects sponsored by the foundation. Others include:
• The Karen Cox Memorial Grants to help teachers who pay for classroom resources out of their own pockets.
• The annual Montana Educator Forum that brings educators and policy makers together to address cutting edge issues in education.
• National Board Scholarships & Candidate Support.
• Presidential Awards for Excellence in Mathematics & Science Teaching.
• The Jim McGarvey Scholarships.
Great Falls and Bozeman teachers chosen as finalists