Cecil B. Crawford, MEA-MFT board member and 2012 Education Support Professional of the Year, was featured recently in this article in the Missoulian. Cecil richly deserves all these accolades!
Native American students thriving in Missoula County Public Schools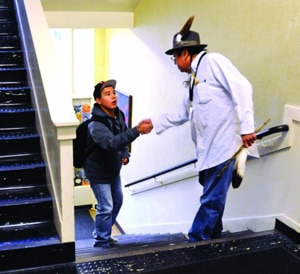 Cecil B. Crawford greets Willard High School freshman Bob Earthboy on his way into the school. Crawford starts his workday shaking hands with students as part of the process of getting to know each one. Michael Gallacher/Missoulian photo
November 25, 2012 • By BETSY COHEN of the Missoulian
After five years in the U.S. Army, after being treated badly in the outside world because of the color of his skin, Cecil B. Crawford vowed to never again leave the Blackfeet Reservation.
Yet as time went on, the warrior-artist could not make peace with the fact that he might have a higher calling than withdrawing into himself and his tribal home.
Looking for direction all those years ago, Crawford turned to his love of art for guidance and began college courses in Missoula with the idea that he would someday teach art to youngsters.
Then, as he was starting down that new path in the late 1980s, he had a vision.
"I had a dream that I was in this room filled with Native American students and there were wooden shelves all around," Crawford shared recently. "I had never seen such a room, and I didn't know where it was, but I was there with young Native students."