12-19-12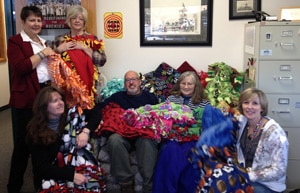 State employees with the blankets they made for homeless kids. Standing, left to right: Debi Nason CSED regional manager, Fran Hennigan, investigator (& MEA-MFT phonebank volunteer). Sitting: Suzanne Habbe, paralegal, Patrick Quinn, staff attorney, and Deanna Earl, investigator. Photo by Cheryl Parker.
MEA-MFT member and state employee Cheryl Parker, a compliance specialist at the state's Child Support Enforcement Division in Missoula, shares this wonderful story of holiday giving:
"Some of our staff helped Sentinel High School students Elly Jones and Danielle Gornick in their quest to make blankets for kids in Missoula who are homeless or at risk of being homeless. Our office decided to help out and made about 20 of the 600 blankets they set as a goal to meet. . . and they met it!!!
"I think it's a great representation of state employees and the contribution we make to our communities and schools."
We think so too, Cheryl!
Here's the article in the Missoulian about the two students and their project, which these great state employees helped with.