12-21-12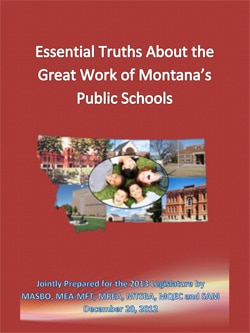 MEA-MFT recently teamed up with other other education advocacy groups in Montana to produce a major new document, "Essential Truths About the Great Work of Montana's Public Schools."
The document is being distributed to all Montana legislators and others in preparation for the 2013 legislative session, which convenes January 7. K-12 public policy issues will be some of the most critical issues facing legislators in this session.
The document explains that some legislators are "operating under the misplaced belief that public schools are failing, inflexible, inefficient, overfunded and expensive."
Hard data: This document uses hard data to show that the truth is very different: "Public schools in Montana are succeeding, improving, innovative, efficient, and in need of additional funding to continue their good work with Montana's kids," it concludes.
Here are the essential truths documented in the publication:
1. Montana's public schools are high performing and efficient. Montana public schools offer a tremendous opportunity for high achievement to children, close to or at the top of the nation in comparison to other states, at a relatively low cost to Montana taxpayers.
2. Montana's public schools engage communities to support innovation and customization. Montana's public schools are innovative and offer unique opportunities for community input, accountability, and access that cannot be replicated by diverting public resources to pay for private education alternatives.
3. Montana's public schools are supported by and in harmony with Montana voters. A major new poll shows that Montana voters are in synch with and strongly supportive of the efforts of Montana's public schools in fully developing children's potential. Voters support additional funding for schools, community ownership and local control, time for educators to focus on instruction instead of record keeping, and they want public schools to be able to offer a well-rounded education to all children. They also believe the quality of public schools is comparable to the best of what private schools offer, and they oppose the use of public funds for private and public education alternatives.
4. Montana's public schools are unified in support of a long-term vision of success and a legislative plan for the 2013 session. MASBO, MEA-MFT, MREA, MTSBA, MQEC, and SAM* all share a common long-term vision for the success of public education in Montana.
We have also gained consensus on short-term goals that are linked to the achievement of the long-term vision, and Senator Llew Jones of Conrad has embraced those goals in LC 132. LC 132 includes a balanced combination of:
a. Funding and increased flexibility for innovation, improved academic achievement, and inflationary costs.
b. Significant school district property tax relief.
c. A solution to ensure that income generated from school trust lands is exclusively devoted to meet the needs of k-12 public schools and the taxpayers that support our schools.
d. An alignment of the success of natural resource development and K-12 public schools and taxpayers.
Read the entire document here.
Also read "Did You Know… Stories About Montana's Great Schools.
*The school advocates who collaborated on "Essential Truths" and "Did You Know" include MEA-MFT, Montana Association of School Business Officials (MASBO), Montana Rural Education Association (MREA), Montana Quality Education Coalition (MQEC), and School Administrators of Montana (SAM).