1-8-13
Here's another outstanding publication by Montana's coalition of public school advocates.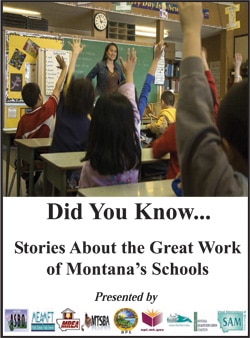 "Did You Know…Stories About the Great Work of Montana's Schools" was created by asking parents, administrators, teachers, and others about some of the innovative programs taking place in their local schools.
The publication is sponsored by MEA-MFT, School Administrators of Montana, Montana Association of School Business Officials (MASBO), Montana Rural Education Association (MREA), Montana Quality Education Coalition (MQEC), OPI, and the Board of Public Education.
Share these stories with others.
And tell us your own. E-mail your story here: [email protected].
Also read: "Essential Truths About the Great Work of Montana's Public Schools."