MEA-MFT had a huge impact on making this program a reality.
Montana Digital Academy picking up steam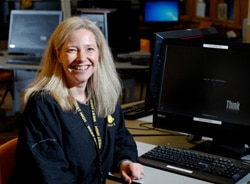 West High School associate principal Jeril Hehn is a site coordinator for the Montana Digital Academy. Casey Page/Gazette staff photo
by Rob Rogers, Billings Gazette, 1-18-13

The obvious appeal — taking a required math class in your pajamas — is trumped only by the fact that almost any class, from Chinese to oceanography, is available upon request.
The Montana Digital Academy, or MTDA, is 3 years old, and as leaders from School District 2 have learned to utilize it, they've seen good things happen in the lives of their students.
"MTDA is a great supplement," said Jeril Hehn, associate principal at West High and one of the district's MTDA representatives.
The trick, she said, has been finding a way to make the digital academy work within the confines of the school district.
The digital academy was created by the state Legislature to be an online learning resource for Montana's far-flung high school students.
"I credit the Legislature," said Denise Juneau, state superintendent of schools. "It was a visionary thing for them to be able to see down the road."
Classes range from remedial math and English courses that get students caught up to grade level, to language, honors, Advanced Placement and dual college credit classes such as Latin and oceanography that students can take to get ahead.
In a state where much of the population is spread out in rural areas, MTDA has become a way to level the educational playing field.
Hehn's husband, who teaches a class for MTDA, is a science teacher at Columbus High School. His school is small enough that advanced language, honors and AP classes aren't offered there.
So MTDA has become the way for Columbus High students to be able to take those advanced and specialty classes.
In Billings, that's not the case.
"We are the biggest high school in the state," Hehn said of West, and SD2 is the biggest school district. "We have all those classes. We have the Career Center. It's different for our students here."
As a result, SD2 began to use Montana Digital Academy as a way to help failing students recover lost class credits. MTDA's credit recovery program means students can take make-up classes whenever they need to, getting them caught up and keeping graduation in reach.
Doing that, SD2's participation in the Montana Digital Academy has steadily increased over the past year and half, and Juneau hopes it continues. She's watched the popularity of the academy rapidly increase across the state.
"If School District 2 gets more involved, we're going to see tremendous growth," she said.
For that reason, her office is requesting that Gov. Steve Bullock set aside $1.5 million for MTDA in the budget he sends to legislators this season. MTDA is free for all Montana high schoolers, and Juneau wants to keep it that way.
"MTDA is awesome," she said.
SD2 has been careful about how it has used MTDA as a resource. Leaders don't want students taking biology online simply because they don't like their biology teacher at school.
As such, Hehn said the district has set up criteria for students who want to participate in MTDA.
The district will sign up students if they need to make up a class or if they can show that they have a legitimate schedule conflict with the classes they need to take to graduate.
They can also take a MTDA class if it's one the district doesn't offer. Latin, which was taught up until 2010 at Senior High, is now offered through MTDA. SD2 students interested in Latin are free to take it online.
"I still feel there's a value to that (classroom) teacher," Hehn said. "I don't think (MTDA) can replace classroom instruction."
But it can certainly augment a high school education, she said, and that's what she hopes it will continue to do.
Read more: http://billingsgazette.com/news/local/education/montana-digital-academy-picking-up-steam/article_90a542a0-7fa2-5956-858b-d1e7a24e3b25.html#ixzz2ILuBbsYP