1-21-13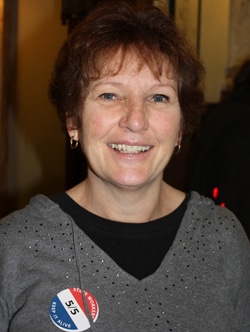 Theresa Becker of Thompson Falls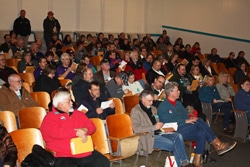 Members get briefed on HB 13, the state pay plan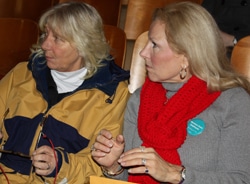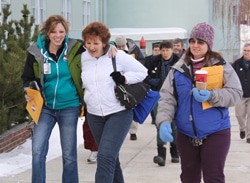 Heading over to the capitol to talk to legislators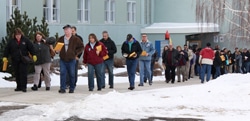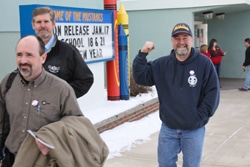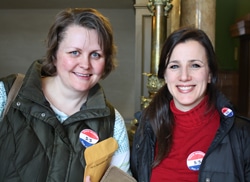 Denelle Chartier & Shannon Merchen of Billings take a breather in the capitol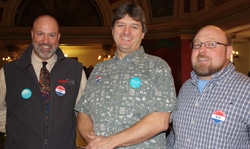 Helena College members Steve Lewis, Bryon Steinwand, and Rick Henry in the capitol
MEA-MFT member Theresa Becker got up at 4:30 in the morning to make the 215-mile trip from Thompson Falls to Helena for the State Pay Plan Day of Action.
Along with more than 200 other state and higher education employees, Becker spent her Martin Luther King holiday asking state legislators to support House Bill 13, the state pay plan.
See news coverage of the Day of Action.
HB 13 contains a 5 percent increase in base salaries for all state employees each of the next two years – a much-needed boost after a four-year base pay freeze. It also contains a 10 percent increase in the state's contribution to health insurance.
MEA-MFT and our fellow public employee unions organized the Day of Action so state and university employees could meet face-to-face with state legislators and ask them to support HB 13.
Day of Action participants traveled from Havre, Butte, Billings, Missoula, Miles City, Bozeman, Thompson Falls, Deer Lodge, Helena, Boulder, Anaconda, and points in between for the event.
Several MEA-MFT K-12 members participated as well, to support their brothers and sisters.
After a briefing, participants fanned out in the state capitol building – highly visible with their right red and blue "5/5 Keep it Alive" buttons — to track down their assigned legislators and ask them to support HB 13.
Becker was assigned to talk to state Senator Jennifer Fielder (R-Thompson Falls). "I told her that we (state employees) are part of the economy," Becker said. State and higher education employees spend their paychecks on local goods and services, helping support local businesses, Becker added. They also volunteer in their communities.
"I'm a member of the local Booster Club and Relay for Life," she said. "We support our schools and communities, and when our wages are frozen we can't afford to do that. Sanders County has high unemployment. We're losing population. To keep families like mine there, they can't freeze our salaries."
Becker works in the Child and Family Services Division of the Dept. of Public Health and Human Services in Thompson Falls. She recruits, trains, and supports foster and adoptive families and protects the safety of children.
Senator Fielder made no commitment to support HB 13, but she promised to "take a hard look at it," Becker reported.
MEA-MFT members Denelle Chartier and Shannon Merchen rode the Day of Action bus to Helena from Billings, along with about 30 other state and university employees. Both Chartier and Merchen work for the state Developmental Disabilities Program.
Merchen said HB 13's increased employer contributions to health insurance was just as important as the 5 percent base salary increase. Maybe more important.
"Every time premiums go up, we feel it," she said. "With the pay freeze, my paycheck goes down when premiums go up."
"We're trying to engage legislators about the importance of the work we do," said Chartier. "We serve a very vulnerable group." But some legislators don't seem interested, she said.
"Two years ago (during the legislature) I heard floor debate — the things some Republicans said were jaw-dropping. They didn't want to understand what state employees do; they just wanted to cut (budgets) across the board."
Chartier and Merchen hope things will be different this session. "This has been very interesting," Merchen said of the Day of Action. "I'm glad I did it. Now we just need to get more co-workers involved."
Here's how YOU can get involved:
E-mail the House Appropriations Committee: Briefly ask them to support House Bill 13, the state pay plan. You can e-mail the whole committee in one fell swoop from the legislative e-mail system.
Attend the next Day of Action: Monday, February 18, 2013 (Presidents Day). Watch for more details.
Stay informed and involved. Keep your eye on our Legislative Action page for updates on HB 13.
Sign up for MEA-MFT President Eric Feaver's e-mail updates. E-mail him at [email protected]. Say, "Sign me up for your listserve."
Follow Feaver on Twitter: @efeaver
"Like" us on Facebook: facebook.com/MEAMFT