1-16-13
Buckle your seatbelts. It's going to be a bumpy legislative session.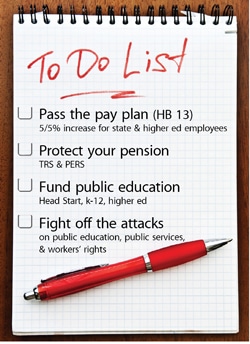 Follow legislative action here.
The 2013 Montana Legislature, which convened in Helena January 7, looks very similar to the 2011 Legislature. Many of the same legislators are back. We can expect many of the same battles.
MEA-MFT is ready for the ride. Our legislative agenda is stripped down, simple, and immensely important. See our list at right. –>
"Passing a pay increase for state employees and strengthening the public employees' and teachers' retirement systems serve the greatest need for the greatest number of our members," said MEA-MFT President Eric Feaver.
"Those are our top two priorities for proactive legislation. Adequate funding for public
education at all levels is right at the top of the list as well."
Here's the good news: First, we have a governor on our side. "Having a strong ally in the governor's office means everything," said Feaver. "Governor Steve Bullock staunchly supports our members and the important work they do. We're on the same page."
Second, MEA-MFT members are revved up and galvanized for action as never before. "Hundreds of our members volunteered to help in the 2012 election," said Terry Minow, MEA-MFT political director and lobbyist.
"That made all the difference in those elections. It will make all the difference in this legislative session, too. Our members are mobilized, and they're effective."
Montanans have easy access to their legislators, more so than citizens in many other states, Minow pointed out.
Third, we have friends. MEA-MFT has hleped build strong coalitions with other citizen groups statewide. They include dozens of groups, representing hundreds of thousands of Montanans.
This legislative session is all about what Montanans value, the kind of society we want as Montanans. Public services play a crucial role for families and businesses, and most Montanans know it. With an ending fund balance of $400+ million in the state budget, the money is there to do the right thing.
Here's a closer look at our legislative agenda:
1. PASS THE PAY PLAN (5/5% for state and university employees)
Last June, MEA-MFT and our fellow public employee unions worked with Governor Schweitzer's office to negotiate a new pay plan. It includes a 5 percent increase in base pay and a 10 percent increase in health insurance each of the next two years for all state employees.
The pay plan, now contained in House Bill 13, also contains the state's appropriation to increase salary and benefit levels for university employees.
Governor Steve Bullock supports the 5/5 increase. The legislature must seal the deal by passing HB 13.
The much-needed pay increase follows four years of frozen base pay for state employees.
The pay freeze has hurt state employee morale, crippled recruitment and retention for these important jobs, and pulled dollars out of local economies where state employees live, buy goods and services, and pay taxes.
State employees are the folks who keep our neighborhoods safe, protect our drinking water, do research that creates jobs, and much more. We need to make sure legislators understand that the pay increase is good for businesses, local communities, and families as well as state workers.
We can win this," Feaver said, "but it won't be a cakewalk. We'll need every state and
university employee in Montana to help convince their local legislators that it's the right thing to do."
Other state employee issues:
Vacancy savings: We are also pushing to exempt 24-hour state institutions from "vacancy savings," something MEA-MFT has successfully achieved in past sessions.
Vacancy savings requires leaving some jobs unfilled when staff members retire or leave. It's tough on all agencies, leaving them understaffed. In 24-hour institutions like the Montana School for the Deaf and Blind, the State Prison, Women's Prison, or Warm Springs State Hospital, it's downright dangerous.
Probation & parole officers: At the request of our probation and parole members, MEA-MFT has developed a bill allowing these officers to carry tasers. Right now, the only option these officers have when confronted by a violent offender is to shoot. This bill will allow them to use tasers instead. If we can achieve this without legislation, we will.

2. PROTECT YOUR PENSION
Mark Twain once said, "The reports of my death have been greatly exaggerated."
The same is true of the misinformation circulating about Montana's Public Employees Retirement System (PERS) and Teachers Retirement System (TRS). It's easy to panic when you read news accounts saying these systems are "actuarially unsound." Some are using this issue to push radical changes in these pension systems. Senator Dave Lewis (R-Helena) refers to them as "a sinking ship." (Helena IR 1-2-13)
Bottom line: There is no crisis with PERS and TRS, though there will be eventually if the legislature fails to act this year. Both need additional funding to deal with shortfalls caused by the market crash of 2008-2009 that tanked investments nationwide.
MEA-MFT is working with a coalition of groups called "Montana's Promise" to pass bills to strengthen PERS and TRS through "shared sacrifice" — increases in employee and employer contributions, and infusing funding from other sources.
"We will fight to retain and strengthen Montana's current defined benefit plans (PERS & TRS)," said Feaver.
"Other people have ideas that would weaken our retirement systems, including moving new hires to defined contribution plans. These ideas won't fix the problems. They cost more and provide far less security for retirees. MEA-MFT will fight such efforts."
Read more about the public employee pension issue here.
3. FUND PUBLIC EDUCATION, pre-school to grad school

You can't be pro-jobs without being pro-public education. Investing in public education means investing in Montana's economy as well as our children's future.
That's the message MEA-MFT will carry to the 2013 Legislature. Here's our agenda on public education funding:
Head Start
Once again, MEA-MFT will work to pass a bill providing state funding for Head Start. Montana is one of the few states that does not invest in Head Start. Other states know it is a good investment.
Head Start breaks the cycle of poverty for thousands of Montana families. Head Start students are more likely to succeed in school, graduate, and become productive, employed citizens. They are far less likely to need public assistance.
Research shows every $1 invested in Head Start results in $8 in savings to taxpayers. That's a rate of return any Wall Street broker would drool over.
Yet Head Start is chronically underfunded. Many Head Start employees are so underpaid that they qualify for public assistance themselves, despite the miracles they create for children every day. Investing state money in Head Start makes it more likely that dedicated professionals can afford to teach and work in Head Start classrooms.
MEA-MFT is asking the legislature to invest just $300 this biennium for each Head Start and Early Head Start child enrolled in the program.
Higher education
Lottery money for students: MEA-MFT has developed a bill redirecting about $10 million per year from Montana Lottery proceeds to assist students in the Montana University System.
"Ironically, many Montanans think lottery proceeds already go to help fund education," Feaver said. "We might as well use some of that money for education. Too many of our students graduate with staggering student debt loads. This bill will help make higher education more affordable for Montana students and families."
Funding: MEA-MFT supports the governor's proposed budget for higher education, which provides enough funding to limit and possibly even avoid tuition increases over the next two years. "This continues a positive trend of a growing state commitment to higher education," said Burke.
"For many years, the state's share of funding for higher education was on a dangerous downward spiral, dropping to as little as 37 percent of university system funding just seven years ago. This percentage has steadily increased during the Schweitzer administration, keeping tuition down for Montana families. MEA-MFT is absolutely committed to assuring that we don't slip backward in this regard. Governor Bullock shares our commitment to higher education."
Salaries: The state pay plan, House Bill 13 (see p. 5) applies to university as well as state employees. HB 13 contains the state's appropriation to increase salary and benefit levels for university employees.
"Montana's higher education faculty are among the lowest-paid in this region of the nation. MEA-MFT has been working many years to fix that," said Marco Ferro, MEA-MFT's public policy director. "The pay plan is a start. We will need all faculty members to help us get this bill through the legislature."
Higher education retirement: MEA-MFT is working on a bill to provide another 1 percent increase in the state's contribution to faculty "Optional" Retirement Plan (ORP) retirement accounts. The bill will also give the Montana Board of Regents more flexibility to increase the employer's contribution, should the Board choose to do so with its own resources.
"Right now, state law limits what the University System can contribute, so we can't even go to the table to negotiate a better deal," Burke said. "This bill will change that."
K-12 schools
MEA-MFT supports all efforts to strengthen k-12 school funding, as long as they don't channel public funds to private schools. "Montana lost 260 teachers in k-12 schools last year," said Feaver. "We have to reinvest in our schools."
MEA-MFT supports Governor Bullock's funding proposals and a major funding bill (Senate Bill 175) sponsored by Senator Llew Jones (R-Conrad). The bill provides dollars for public schools and property tax relief.
We also support Superintendent Denise Juneau's legislative agenda, which is all about investing more in public schools, raising standards, and making sure kids graduate. Juneau's agenda includes, among other things:
• Inflationary funding increases for each of the state's k-12 funding components.
• One-time funding to implement Montana's new English and math standards and make sure schools have technology for 21st century learning.
• Funding for Graduation Matters Montana, Juneau's successful project that aims to cut Montana's dropout rate in half to 2.5 percent by 2014.
• Raising Montana's legal dropout age to "age 18 or upon graduation." Montana is one of only 17 states that allow 16-year-olds to drop out.
• Funding to meet increased demand for the Montana Digital Academy.
4. FIGHT OFF THE ATTACKS
In addition to our proactive agenda, MEA-MFT is gearing up for a strong defensive game. "We have already seen numerous bill drafts attacking public education, public employees' rights, teacher tenure, and more," said Marco Ferro.
"We will pull out all the stops to fend off these attacks. We're not letting Montana go the way of states like Wisconsin, where public employees have lost so many rights."
"First and foremost, we will oppose any and all efforts to privatize public schools in Montana," said Feaver. "That includes charter schools, vouchers, tuition tax credits, and any school funding bills tied in any way to privatization."
We'll need your help every step of the way. Keep informed here.
Download fact sheets on so-called "right-to-work," charter schools, public employee pensions, and teacher tenure here.