1-24-13 – Several MEA-MFT members testified yesterday at the hearing on HB 13, the state pay plan.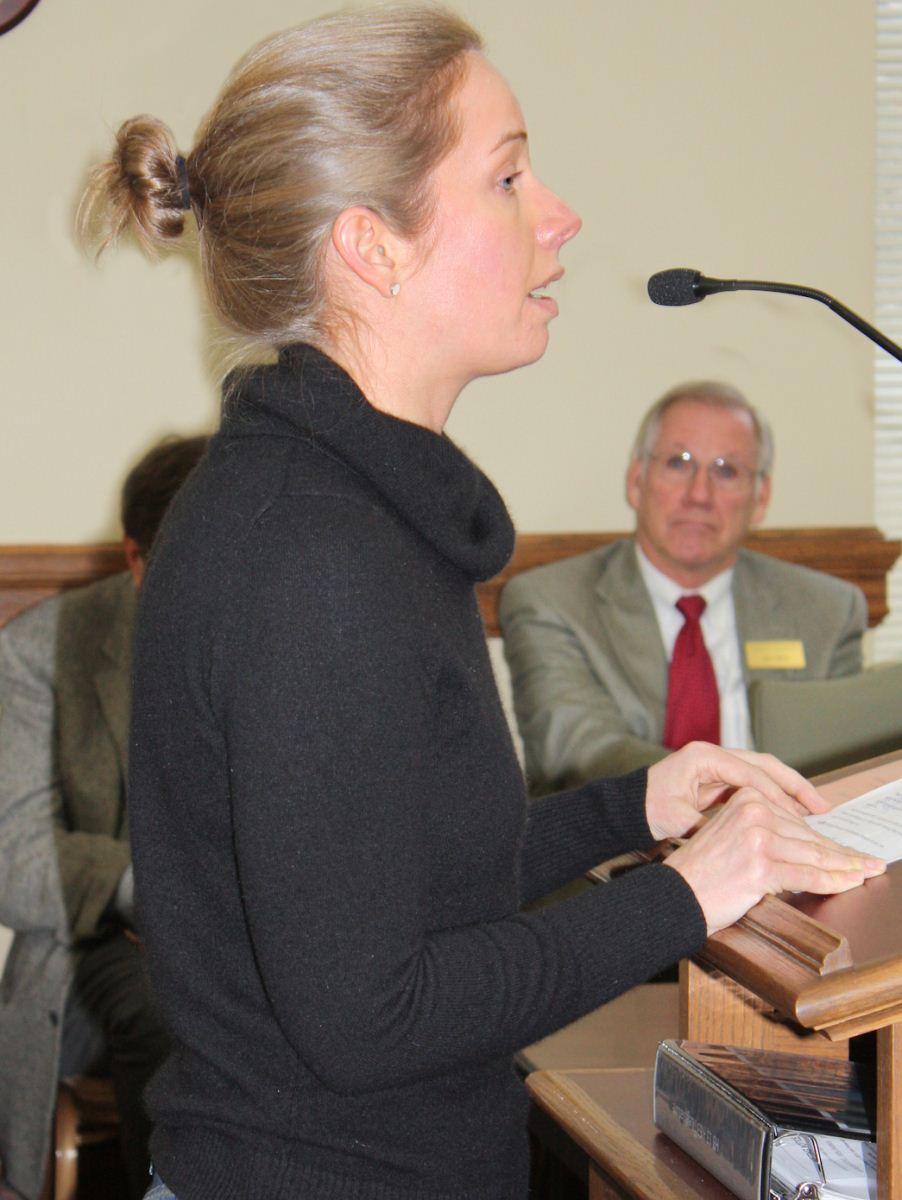 Rachel Lilley, an MEA-MFT member at the Montana Historical Society, testifies in support of HB 13.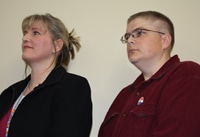 Members Jill Cohenour (DPHHS) & Rich Aarstad (Historical Society) wait in line to testify for HB 13.
Along with other state and higher education employees, they did an excellent job of making the case for passing HB 13 and lifting the salary freeze.
"It may have been the best pay plan hearing ever," said MEA-MFT President Eric Feaver.
"There was no way members of the committee could not have been moved by the stories hard working, underpaid Montana state employees shared."
Now it's your turn. Here's how you can help:

1. Contact members of the House Appropriations Committee. Say, "Please pass HB 13, the state pay plan. No slicing, no dicing. 5/5 percent for all."
It takes just seconds to e-mail the whole committe with the legislative e-mail system.
2. Plan to attend our 2nd Pay Plan Day of Action, Monday, Feb. 18 (Presidents Day), state capitol, Helena. Meet on north stairs at 10:30 a.m.
Read news story on the pay plan.
Testify, brothers & sisters
MEA-MFT member and state officer Rich Aarstad was one of several state employees who gave eloquent testimony on HB 13 at Jan. 23 hearing. Here is his testimony:
Chairman, Committee members, my name is Rich Aarstad. It is my honor and pleasure to work at your Montana Historical Society. But this afternoon, I am on my own personal time to testify in support of HB 13, the state employee pay plan.
As a Montanan, I grew up understanding that there is honor and pride in the work we do, whether it is bucking bales, washing dishes, planting trees, cutting firewood, or working as the Senior Archivist at the Montana Historical Society. I understood also that while not all work is satisfying, there is satisfaction and pride in doing the job well.
As state employees, we are expected to enforce the laws and implement the policies adopted by the Montana Legislature, and we do. We serve the residents of Montana. For that service we receive recompense. When times are tough we are the first to sacrifice for the good of the people as we did in 2009.
Yet it seems entirely too easy to use state employees as a biennial punching bag. Where is the pride, where is the respect for those people who do the work this august body legislates?
I'm proud of the work I do for the State of Montana. I'm proud of the work all state employees do every day to move Montana forward. So it is with frustration that I stand before this committee today, because we as state employees have followed the law; we adhere to the policies; but yet once again we are faced with an uphill battle on the state employee pay plan. We find ourselves caught between the devil and the deep blue sea.
I ask this committee to throw us a life line. Acknowledge the importance of the work we do every day for Montana. Honor the fact that we have stood firm in our commitment to the people. Allow us some pride in a job well done. Pass HB 13 from this committee and encourage your fellow legislators to support the pay plan.
Thank you Chairman Ankney and committee members for your time and consideration in this matter, and I appreciate your support on HB 13.
Excerpts of other testimony in favor of HB 13:
Paula Stoll, State Human Resources Division Administrator and governor's chief labor negotiator:
Montana has seen huge delines in the number of qualified applicants for state jobs since the four-year pay freeze.
Private sector wages have increased by 8% since 2008, while state employee salaries remained frozen.
"Montana is no longer competitive at either end of the pay scale."

A record number of state employees are taking a second job. "Fewer people are choosing to work for state government."
Turnover is at 13 percent. That costs the state a lot of money for retraining, lost productivity, etc.
State employee base pay is 14.5 percent behind the private sector and 14.5 percent behind government employees in neighboring states.
Even if HB 13 passes, Montana state employees will trail the regional market in pay by 12.2 percent.
"We are at a precipice."
Read Ms. Stoll's full testimony here.
Ed Jasmine, retired Helena banker:
"As a retired bank president, I know the importance of having motivated employees."
Clayton Christian, Chair, Montana Board of Regents:
"Industry demands high quality of us." HB 13 is "vital to our competitiveness to attract the best faculty."
Ronda Wiggers, Helena Chamber of Commerce
"State employees are not only our customers, they are our friends and neighbors."
Waded Cruzado, President, Montana State University
"HB 13 is essential to MSU and our four campuses."
Jill Cohenour, MEA-MFT member & chemist at the state lab:
"Your workers have done more with less for five years."
"This is a jobs bill. Invest in these workers and they'll invest in their communities."
Steve Eckels, MEA-MFT member, mental health worker and former correctional officer at Montana State Prison in Deer Lodge:
Steve told of a pregnant colleague who was called to help an inmate who spat in her face and gave her hepatitis C. It required months of treatment.
"Mothers and fathers (working at the prison) qualify for state aid. They're subject to feces and urine tossed at them. Female officers are constantly exposed to inmates that flash them."
Tami Ellis, Montana Highway Patrol dispatcher, MPEA member:
Tami is a single mom with four kids. Two of them want to go to college."My only hope was to take a second job. I get up in the cold at 3:30 in the morning to deliver newspapers, walking four miles every day before work."
In 2009, "when we decided to do the state a favor and not ask for a raise, we're patted on the back and told, 'It was so nice of you to rebuild the coffers.' Can't you do the same for us?"
Eric Feaver, President, MEA-MFT:
"The Montana Nurses Assoc. also supports HB 13."
Timm Twardoski, President, AFSCME:
"We're losing people (state employees) to the Bakken oil fields."
While average state employee turnover is 13 percent, it's even higher (26 percent) among the state's public defenders, AFSCME members. "Those folks have already given up."
Al Akblad, President, Montana State AFL-CIO
Private sector wages have increased in Montana. "Those are dollars in the private sector because state employees got no increase."
Rep. Kathy Swanson, D-Anaconda, sponsor HB13:
Swanson said state workers in her district make so little that they qualify for reduced price school lunches.
"This is your opportunity to tell state workers they have worth."