3-15-13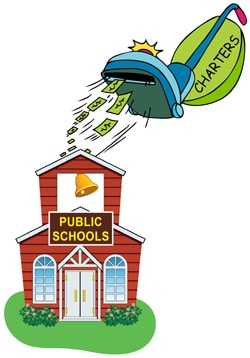 Senate Bill 374 (Lewis) is a bill to take taxpayer dollars away from Montana's public schools and give the money to "charter" schools. It's bad for our public schools, children, and MEA-MFT members.
Proponents call it "school choice." In reality,
its purpose is to privatize our public schools.
The bill was heard March 15 in the Senate Education Committee.
With your help, we already stopped one bad charter school bill: HB 315 (Knudsen). Thanks to all of you who contacted legislators — it worked! We also had great help from the rest of Montana's education community.
However, Senator Dave Lewis (R-Helena) has resurrected this bad idea through SB 374.
Who's behind the so-called "school choice" (privatization) efforts? Find out here.
Why SB 374 is bad news:
1. It diverts taxpayer money from public schools to so-called "public" charter schools, that would be "public" in name only.
2. It erodes Montana citizens' power to directly govern their own public schools. There would be no accountability to taxpayers.
3. It allows taxpayer-funded charter schools to hire almost anyone to teach – no license or endorsement required.
4. It boots collective bargaining and union contracts out the door. Teachers and school support staff would have no protection.
5. It doesn't allow charter school teachers to participate in the Teachers Retirement System.
In short, SB 374 goes against Montana's history, culture, constitution, fair play, and good sense.
WHAT YOU CAN DO: Please contact all members of Senate Education. Urge them all to Vote NO on SB 374.
You can e-mail all members of the committee at once, quickly and easily, through the legislative e-mail system. Thank you for taking action!
Don't miss this excellent article from the Missoula Independent on the secret source of charter school bills like this: the right-wing American Legislative Exchange Council (ALEC). "The real danger posed by ALEC's model legislation is that pretty much all of it benefits the bottom line of for-profit corporations at significant expense to the taxpayer."