3-19-13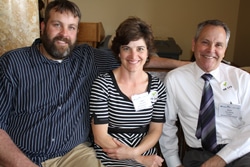 MEA-MFT members & teachers Eric Matthews, Anne Keith, and Jerry Reisig of Bozeman take a breather at the state capitol before talking to legislators about SB 175 during the Day of Advocacy.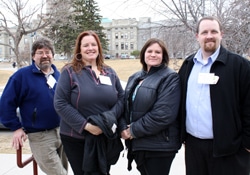 Kalispell members & teachers Mike Thiel, Christy Peeples, Libby Boar, and Anthony Lapke outside the MEA-MFT office, bound for the capitol across the street.
Shoulder to shoulder for kids: This legislative session finds Montana teachers, school administrators, trustees, and other public school advocates working together as never before on behalf of Montana's children and their education.
"Montana's education community has never, ever been more united than we are now," said MEA-MFT President Eric Feaver.
"We're working together for better school funding and against school privatization."
The unity was highly visible throughout the state capitol building March 18, when dozens of MEA-MFT members joined k-12 school administrators, trustees, school business officials, and others for a Day of Advocacy.
The Day of Advocacy was jointly sponsored by MEA-MFT, Montana Assoc. of School Business Officials, Montana Rural Education Assoc., Montana School Boards Assoc., School Administrators of Montana, and Montana Quality Education Coalition.
The event brought public school advocates from around the state together in support of the session's key school funding bill — Senate Bill 175 — and against school privatization.
Day of Advocacy participants met for a briefing on key education issues before the legislature, then fanned out to talk to legislators at the capitol.
MEA-MFT members Jerry Reisig and Eric Matthews of Bozeman were two of the participants.
Reisig teaches middle school AP physics and physical science. He also directs middle school activities in the Bozeman public schools. He has high hopes for SB 175, the landmark school funding bill.
"It's a bipartisan bill," Reisig says. "That's the important thing. It's nice to see both parties working together instead of one party always worried about the other party looking better if something gets passed."
Working together is how the system is supposed to operate, Reisig says. "It's unusual these days. The legislators working on this should be commended."
SB 175 has "several long-term fixes to school funding issues," says Eric Matthews, who teaches middle school technology and video and photo production in Bozeman.
Matthews and Reisig say Bozeman's schools — like schools across the state — face many problems due to current funding shortfalls, including lack of technology in the classrooms, large class sizes, potential cancellation of programs, and cuts to resources such as chemistry labs.
How SB 175 works: More funding for schools statewide ♦ Less burden for property taxpayers statewide ♦ Help for oil & gas impacted communities
SB 175, sponsored by Senator Llew Jones (R-Conrad), was crafted with help from hundreds of people and groups across Montana – including MEA-MFT — who worked together on ideas to improve Montana's school funding system.
The bill taps into oil and gas production taxes to provide significant additional funding for schools to improve academic achievement for Montana's children.
At the same time, SB 175 provides substantial relief to Montana's property taxpayers, who have shouldered a disproportionate share of the costs of funding Montana's public schools for the last 20 years and more.
The bill increases state funding for public schools by $120 million over the next two years and cuts property taxes about $48 million over the same period.
The bill takes half of the state's current share of oil and gas revenues and directs it to better fund schools and provide permanent reductions in property taxes statewide.
SB 175 also helps school districts and taxpayers in oil and natural gas impacted areas. With rapid oil and natural gas development in Eastern Montana, public schools in those areas have been significantly affected.
These impacts include:
Rapid increases in student population.
Students who come and go in a single year and are never counted in the state's school funding formula.
A disproportionate number of students with learning disabilities and other special needs.
School staff who can't find affordable housing, strains on water and sewer systems.
Recruitment and retention problems as school cooks, bus drivers, maintenance workers, teachers, and others are lured away by higher wages to work for the oil and gas industry.
An insufficient pace of growth in the property tax base to support these impacts.
SB 175 calls for disbursing more evenly the oil and gas revenue that flows into oil rich school districts by capping their revenue at 130 percent of their general fund budget, then distributing the remaining revenue to districts immediately surrounding the oil and gas development that also feel the impact of development.
"SB 175 is good for school districts large and small, all across Montana," said Feaver. "It is the right thing to do for Montana's kids and communities."
SB 175 has passed the Montana Senate. It must now pass the House. "Passing it in the House will not be easy," said MEA-MFT Public Policy Director Marco Ferro. "Some legislators don't like big, innovative, problem-solving ideas. We've got to continue showing them that parents, educators, school board members, and whole communities are united behind this bill."
Please stay posted.