March 2013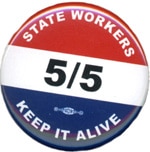 Thanks to Helena-area state employee members Dee de Yong, Susan Mergenthaler, and others, the following businesses proudly display flyers proclaiming their support for Montana state employees.
They know how much state employees contribute to local economies and communities.
Please wear your 5/5 pins to these businesses and THANK THEM FOR THEIR SUPPORT!! And please give them your support.
Is there a business in YOUR town that publicly supports state employees? Please let us know and we'll add them to this list. E-mail [email protected].
HELENA-AREA BUSINESSES THAT SUPPORT STATE EMPLOYEES
Allegra Printing and Imaging
40 W. Lawrence
Helena, MT 59601
449-2847
Auto Worxs Plus
1900 Gold Ave
Helena, MT 59601
443-2933
The Bagel Co.
735 N. Last Chance Gulch
Helena, MT 59601
(406) 449-6000

Basecamp
5 W BroadwayAve.
Helena, MT 59601
443-5360
Bergum Drug
2600 Winne Ave. Ste 9
Helena, MT 59601
(406) 443-0506
Blackfoot Brewery
66 S Park Ave
Helena, MT 59601
449-3005
Blackfoot River Brewing Company
66 S. Park Avenue
Helena, MT
449-3005
Capital City Health Club
1280 N. Montana Avenue
Helena, MT 59601
442-6577
Chili's Bar & Grill
2790 N Washington St
Helena, MT
442-3500
Chubby's Bar & Grill
9 N Main St
Clancy, MT 59634
933-5547
Dr. Ditchey/Shauer DDS
740 Helena Ave
Helena, MT 59601
442-7980
Great Divide Dental
Dr. Ben Spiger DDS
3003 Cabernet Dr.
Helena, MT 59601
442-8062
Guaranteed Muffler
1339 11th
Helena, MT 59601
442-7253
Helena Stamps
637 Helena Ave
Helena, MT 59601
442-7171
Heritage Food Store
109 S Lane Ave
East Helena, MT 59635
227-5304

Lattes & Sundaes
503 Fuller Ave
Helena, MT 59601
996-1568
Mediterranean Grill
42 S Park Ave
Helena,MT59601
495-1212
Morrison/Balukas Law Firm
111 N. Last Chance Gulch
Helena, MT 59601
204-4569
Park Avenue Bakery
44 South Park Avenue
Helena, MT 59601
449-8424
Taco Treat
1820 Prospect
Helena, MT 59601
443-4711
The Man Store
200 S Main Ave.
East Helena, MT 59635
227-6519

Tempest Technologies LLC
38 S Last Chance Gulch Ste 5A
Helena, MT 59601
495-8731

Tiny's Gym
605 W Custer Ave
Helena, MT 59601
442-4249
Toppers
1221 Helena Ave
Helena, MT 59601
442-9357

Village Inn Pizza
1830 Prospect Avenue
Helena, MT 59601
443-1111
Yat Son Restaurant
22 East Main St.
East Helena, MT 59635
442-5405

Corporations Posting Fliers in Break Rooms
(Requests were made for them to check with corporate headquarters for public posting.)
Costco
2195 E Custer Ave
Helena, MT 59601
495-7040

Staples
East Custer Ave
Helena, MT 59601
441-1529