August 2013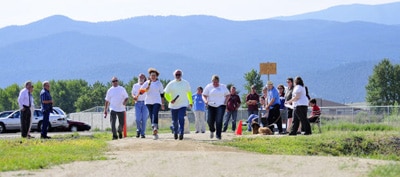 Montana Developmental Center staff members start the first leg of a relay race on the facility's new walking path. Clients stationed along the 1.5 miles of trail continued each leg of the relay. Eliza Wiley photo, Helena Independent Record.
MEA-MFT members working at the Montana Developmental Center (MDC) in Boulder joined with clients, their families, and management August 9 to celebrate MDC's pursuit of excellence.
MDC serves Montanans with severe disabilities and behavioral issues.
In a day-long event, MDC christened a new walking trail for clients and celebrated new pathways for the facility.
MDC clients talked about how the walking trail helps them calm down.
Carol Daily, the mother of an MDC client, told a moving story of her son's progress at MDC. Her son had done well at MDC before he was moved into a group home, where his condition deteriorated. He gained weight, shut down, refused to come out of his room, and stopped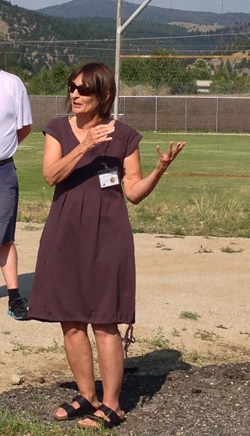 Carol Daily talks about how her son is thriving at MDC. "Our whole family thanks you," she told staff.
talking.
When Daily's son was transferred back to MDC, with round-the-clock supervision, he began to improve again. "My son thrives here as never before," she said. She told MDC staff that she honors and respects their work, though others misunderstand the facility.
A handful of Montana legislators tried to pass a bill closing MDC down in the 2013 legislative session, which would have left many clients with nowhere else to go. The bill ultimately failed, but its sponsor, Sen. Mary Caferro (Helena) has said she will try again in 2015.
Read news story about the celebration here.