8-21-13
Back to School Tax Reform Rally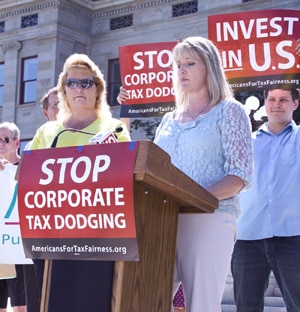 Jill Cohenour speaks at the rally, with Shannon Bender on the left.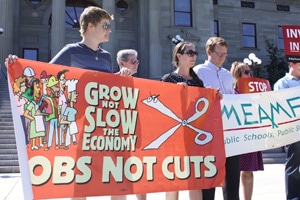 Rally-goers get the message out.
It's time to stop corporate tax dodging and invest in our schools and other public services.
That was the message of the "Back to School Tax Reform Rally for Kids" held today at the state capitol in Helena.
MEA-MFT member-leaders Shannon Bender and Jill Cohenour led the charge at the rally, which was co-sponsored by
MEA-MFT and the Montana Organizing Project.
Rally-goers were asked to sign this petition: "Main Street or Wall Street? Stop Corporate Tax Dodging and Invest in Montana"
"As a public employee, I have seen the effect of cuts to services that Montana families need most," said Cohenour, a chemist at the Montana state lab.
Cohenour added that as a former Montana legislator, she has also experienced the struggle to fund public services while trying to hold onto revenues from corporations that need tax breaks the least.
"We pay taxes to collectively invest in things we cannot do alone," she said.
"Education, highways, and health care are public systems that improve the Common Good. In the past we invested in quality programs and services at a level that moved the economy forward and invested for the future."
Congress poised to continue unnecessary budget cuts, Cohenour said, "we ask them to choose our children's educational welfare over corporate welfare."
Cohenour noted that corporate profits are at a 60-year high, but corporations stash much of their profits in overseas tax havens like the Cayman Islands. Montana loses millions of dollars a year because corporate tax dodgers take a vacation from paying their fair share of taxes.
"We are asking Congress to close tax loopholes and restore funding to education at all levels," she said.
"Montana's economy has already been negatively affected by cuts to many public services that Montana small businesses and working families need. The strain caused by cuts has caused the American economy to stagnate and working families to pick up the slack."
Shannon Bender, a Family Advocate for the Great Falls Head Start program, talked about devastating cuts to Head Start, a national program that helps low-income children and their families.
"Every day, I see the miracles that Head Start works in the lives of disadvantaged children and their families," Bender said. "For thousands of Montana children, Head Start breaks the cycle of poverty and gives their families a shot at a more hopeful future."
Now, however, sequestration has forced Head Start programs to take a 5% cut across the board. More than 200 Montana children and their families will lose Head Start services.
Nationwide, unnecessary sequestration cuts will force 70,000 children and their families out of Head Start.

"When sequestration cuts hit the airlines, all the airlines had to do was complain that people would have to wait an extra 30 minutes to an hour, and their money was reinstated," Bender said.
"I believe the services we provide every day to Head Start children are far more important and far longer lasting than people having to wait a little longer to board their plane. Study after study shows that every dollar spent now on early childhood education, including Head Start, saves taxpayers $7 down the road. That's an incredible rate of return!"
Jan Siemens, a mother and grandmother, talked about how cuts to higher education have forced students to acquire staggering debt in order to finish college.
Cohenour concluded the rally saying, "We have come before you today to draw attention to the budget fight coming in the next few months in the US Congress.
"In this game of tug-of-war, corporations have stepped out of the game and left the rest of us to hold the full freight. This is not a game for our kids. Their future depends on our priorities. As our kids get back to school next week, we ask that Congress prioritize education over corporation tax giveaways that are not moving our economy forward."
She called on Montana senators Baucus and Senator Tester and Representative Daines "to be fiscally responsible and make corporations pay their fair share."

Montana families pay their fair share. It's time for corporations to step up and tdo the same.
WHAT YOU CAN DO: Consider signing the petition calling on Congress to Stop Corporate Tax Dodging.