8-28-13
Dr. King's legacy was about public education & unions as well as civil rights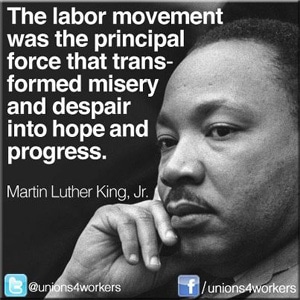 The March on Washington for Jobs and Freedom took place 50 years ago on August 28 at the Lincoln Memorial in Washington, DC.
It was during this march that Dr. Martin Luther King, Jr. gave his immortal "I Have a Dream" speech. You can hear the speech here.
More than 200,000 Americans gathered in Washington, DC that day for a rally that became a pivotal moment in the struggle for civil rights in the United States.
While Dr. King is best known as a powerful spokesman for the civil rights movement, it's important to remember that he also spoke out passionately for public education, against poverty, and for unions.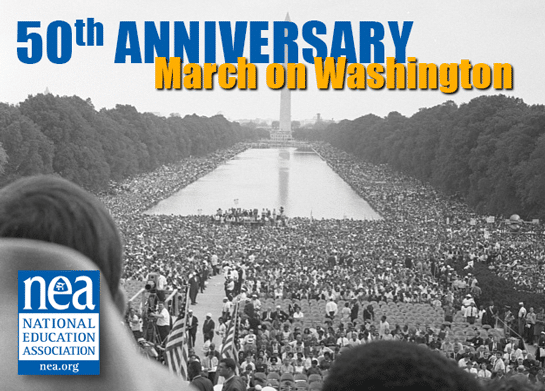 Dr. King recognized public schools as the one true path out of poverty for millions of Americans.
He spoke strongly in favor of working people's rights to organize unions to improve their lives, saying: "The labor movement was the principal force that transformed misery and despair into hope and progress. Out of its bold struggles, economic and social reform gave birth to unemployment insurance, old-age pensions, government relief for the destitute and, above all, new wage levels that meant not mere survival but a tolerable life."
Read more of what Dr. King said about unions.
This August, MEA-MFT's two national affiliates, NEA and AFT, joined other groups in a commemorative march and rally along the historic 1963 route and a "Global Freedom Festival" on Saturday August 24.
The event was part of a week-long observation of the historic 1963 rally and march. See a full list of events here.
Read more about NEA and AFT's involvement in the 50th anniversary commemoration, along with classroom resources and more information:
http://www.nea.org/MarchOnWashington
http://aft.org/newspubs/news/2013/072613march.cfm