10-9-13
This is BIG news!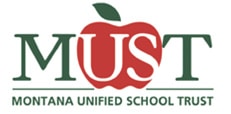 MEA-MFT, Montana School Boards Assoc., and School Administrators of Montana are the three sponsors of MUST and have been from the beginning.
We look forward to a strong, positive relationship with the Blues. We want to provide Montana public school educators the best health care at the best possible cost. Partnering with Blue Cross/Blue Shield will help us achieve that objective even as we all plunge into the most confounding health care insurance environment imaginable.
MEA-MFT President Eric Feaver
MUST partners with Blue Cross and Blue Shield of Montana
Effective July 1, 2014, Blue Cross Blue Shield of Montana will begin processing medical, dental, and vision claims for all MUST members.
MUST provides health-benefit coverage to Montana's public education community, so gaining access to BCBSMT's vast physician network means the trust's membership—composed mainly of teachers, administrators, and support staff—will soon have even more provider choices in state or when travelling.
"Our average premium increase this past year was only 4.6 percent and this partnership promises provider discounts that should help us continue bucking the trend of medical inflation," said MUST Chief Executive Officer Eric Schindler.
"BCBSMT is excited to partner with MUST in providing Montana's public education community with the best access to quality, affordable healthcare," said Mike Frank, BCBSMT plan president.
The partnership will also give MUST members access to BCBSMT's private exchange partner, known as bswift.
"The private exchange provides choice, convenience, and administrative ease to groups and members. We're very excited to offer this service to member groups and we'll be communicating with our groups over the next several months to share this exciting technology with them," said Schindler.
"We're also delighted about the service enhancements that Blue Cross brings to us. Their affiliation with HCSC provides our members with even better customer service and world-class technology," Schindler added.
MUST pharmacy claims will continue to be processed by MedImpact, under the URx pharmacy plan.
Based in Helena, MUST serves approximately 120 school groups across the state. The trust has been providing health benefits for the Montana public-education community since 1987 and is sponsored by MEA-MFT, Montana School Boards Association, and School Administrators of Montana.