10-11-13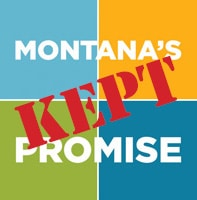 As expected, as a result of HB 454 passed in the last legislative session, the Montana Public Employees' Retirement [Pension] System now amortizes.
This is very good news.
Active and retired public employees in state, county, municipal, and school governments should all sleep better at night knowing that their pension, the one they paid for over and over, will be with them to the end. And new hires have not been condemned to a mandatory defined contribution, 401k plan that might or might not see them to the end of days.
To repeat, PERS now amortizes . . . as does the Teachers' Retirement [Pension] System.
MEA-MFT played a huge role in getting the bills passed that amortized TRS and PERS.
Montana's Promise made. Promise kept.
This is cause for celebration.
Unfortunately, as we have reported over and over, the last legislature insisted on fiddling around with the guaranteed annual benefit adjustment in PERS as it did in legislation amortizing TRS.
Consequently, our work amortizing and saving PERS as pension plan as we have similarly worked to amortize and save TRS, is not yet done.
Stay tuned. See following news article.
Public Employees' Retirement System pension in better shape, actuaries say
BY CHARLES S. JOHNSON GAZETTE STATE BUREAU – OCTOBER 11, 2013
HELENA — The Montana Public Employees' Retirement System pension fund is in much better financial shape now after some major changes were put in place by the 2013 Legislature, actuaries told a board Thursday.
The Legislature raised contribution rates for employees and employers and pumped in millions of dollars in state coal-tax revenues. It also reduced the annual cost-of-living increase for retirees, a move that is expected to be the subject of a lawsuit filed by a group of retired public employees and unions.
Under the legislative changes passed earlier this year, the PERS pension fund will amortize over 15.6 years, the actuaries said. That's the length of time needed to fully fund all PERS pension liabilities. A year ago, the pension fund did not amortize.
The Montana Constitution requires public pensions to be actuarially funded, which means benefits must be fully funded in 30 years or less.
Montana pension fund investments lost nearly one-fourth of their value when markets plummeted in the national recession in 2008.
Gov. Steve Bullock proposed the public employees' pension fix in House Bill 454, a modified version of the plan that former Gov. Brian Schweitzer suggested last year. A separate fix was offered and passed by the Legislature to address the Teachers' Retirement System.
Actuaries from Cheiron, a national consulting company, updated the Montana Public Employees' Retirement board on how the legislative changes affect the pension fund's finances.
"I think what this shows is HB454 did put PERS on a very solid basis going forward," actuary Stephen McElhaney told the board.
Later, Bullock told reporters he was pleased by the news from the PERS actuaries.
"I think it was great that we worked together during Legislature to certainly try to find a fix and we did so without raising taxes," he said.
Bullock said he and legislators from both parties came together to fix Montana's pension systems.
"It's important not just for today but going forward that we honor the promises that we've made to those in the past, and also to make sure that we can have a solvent, sustainable system," Bullock said.
Among the changes added late in the legislative session was a controversial provision to reduce retirees' annual cost-of-living increase, known as guaranteed annual benefit adjustment or GABA, from 3 percent to 1.5 percent, with the possibility of it dropping further.
Leo Berry, attorney for the Association of Montana Retired Public Employees, has said the group soon will challenge the GABA reduction as a violation of retirees' contractual rights.
If that lawsuit succeeds, actuaries said it will take 43.7 years to amortize the PERS pension fund instead of 15.6 years under the law as written.
PERS assumes an annual average rate of return of 7.75 percent on pension investments. For the fiscal year ending June 30, the rate of return on pension investments was about 13 percent.
Late last month, the other largest state pension fund, the Montana Teachers' Retirement System, received positive news from its actuaries.
The length of time needed to fully fund TRS pension fund liabilities dropped to 20 years on July 1 because of similar changes made to that fund by the 2013 Legislature. A year ago, the time needed to actuarially fund TRS was infinite.