Feb. 2014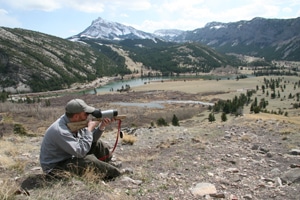 Brent Lonner looks through a gunstock-mounted spotting scope during a bighorn sheep survey.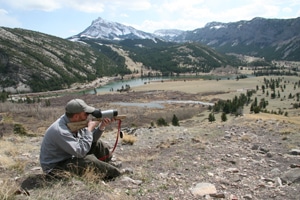 MEA-MFT member Brent Lonner, a wildlife biologist with the Montana Dept. of Fish, Wildlife, and Parks, is prominently featured on the front cover of AFT's Spring 2014 Public Employee Advocate. AFT is one of MEA-MFT's two national affiliates.
The photo, showing Lonner working on a bighorn sheep survey, was originally published in our MEA-MFT Today newsletter in an Amazing Members story about Brent.
The AFT article talks about how state employee members around the nation, like Lonner, are striking a balance between the needs of nature and those of fishermen, hunters, conservationists, and others.
Congratulations, Brent, to you and our other biologist members for the important work you do!
You can read the full article on the AFT web site. (While the web site says it's the Spring 2013 issue, it really is 2014!)