Initiative 170 (I-170) will make health coverage through Medicaid available for an additional 70,000 low-income Montanans. It would create thousands of jobs in Montana. It's the right thing to do.
MEA-MFT urges you to sign the petition, when it circulates your way, to put I-170 on the November 2014 ballot.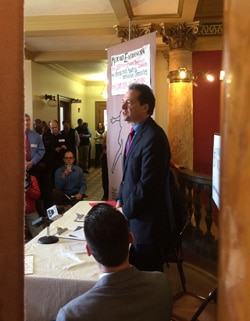 Gov. Steve Bullock speaks in favor of I-170 at a capitol rally March 26.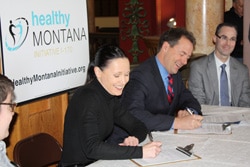 Lt. Gov Angela McLean (a proud MEA-MFT member!) & Gov. Steve Bullock sign I-170. More photos on our Facebook page.
News article:
Bullock, McLean sign Medicaid expansion initiative
IR State Bureau, 2-27-14
Gov. Steve Bullock and Lt. Gov. Angela McLean on Wednesday signed the petition to qualify the voter initiative to expand Medicaid, saying it's time for the people to do what the 2013 Legislature would not.
"I stand before you today as committed as ever to ensuring 70,000 Montanans no longer live under the threat of financial collapse or catastrophic illness, simply because they do not have adequate health coverage," Bullock told a small crowd of supporters at a ceremony at the Capitol.
Bullock and McLean signed the petition to qualify Initiative 170 for the Nov. 4 general election ballot.
Supporters have until June 20 to gather 24,175 signatures of Montana voters, to place the measure on the ballot. They said they've already collected about 1,000 signatures during the past 10 days.
If passed, I-170 would expand Medicaid eligibility in Montana for those earning up to 138 percent of the federal poverty level, starting next summer.
Under the federal Affordable Care Act, the federal government will cover almost the entire cost of expanding Medicaid through 2016. After that, the feds' share of expansion costs will gradually decline to 90 percent by 2020.
For a single person, 138 percent of the federal poverty level is an income of about $16,100. For a family of four, it's $32,900.
Supporters of the Medicaid expansion have estimated it would provide largely free, government health insurance for 70,000 low-income Montanans. Medicaid is the state-federal program that pays medical bills for the poor.
A majority of Republicans in the 2013 Montana Legislature voted to refuse the Medicaid expansion, arguing it would become too costly for the state and wouldn't improve health in the state.
The Montana Republican Party also has said it plans to oppose I-170 if it gets on the ballot.
Even if I-170 is passed by voters, the 2015 Legislature, which may be controlled by Republicans, likely would have to authorize the spending of any federal and state funds for Medicaid expansion.
Bullock said the expansion would bring in $1.6 billion of federal money to the state in 2016. He said since the Legislature "callously rejected" Medicaid expansion last year, it's time for the people to "get this done for themselves."