See lots more photos of the Members of the Year celebration on the MEA-MFT Facebook page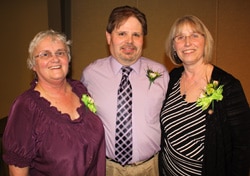 Above: Mary Verploegen, Kevin Bock, Deana Elder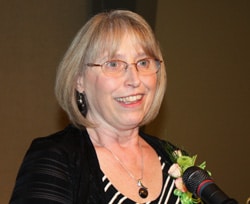 Deana Elder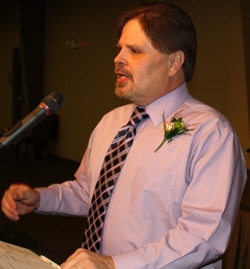 Kevin Bock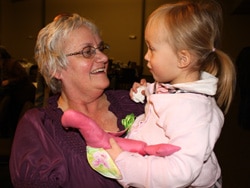 Mary Verploegen and her granddaughter.
MEA-MFT honored our 2014 Members of the Year with a celebration and banquet March 28 in Helena, as part of Representative Assembly.
Members of the Year are leaders in their professions and in their local MEA-MFT unions. They are extraordinarily dedicated to the Montana citizens they serve and to their coworkers.
Meet our 2014 Members of the Year:
DEANA ELDER: EDUCATION SUPPORT PROFESSIONAL OF THE YEAR
Deana Elder doesn't know how to give less than 100 percent. So when she volunteered a decade ago with her local union, the Billings Classified Employees Association (BCEA) Local #7514, "it was a big decision," she says. "I knew BCEA would get 100 percent from me."
Elder is now president of BCEA. She works as a computer engineer for the Billings Public Schools — just one of many different ESP hats she has worn. She can relate to almost every job her members have, she says, because she has worked many of them herself.
This has helped her get more professional development for her members, "to make everyone's job a little better, with benefits and training," she says.
She serves on the MEA-MFT board and is active in the union on the national level, as well.
One of her most important jobs, Elder says, is raising her grandson, a special needs student with mental illness. "Advocating for him and others who struggle with mental illness is a never-ending job for me," she says. She teaches parent/caregiver classes on mental illness and helps teachers and administrators understand mental illness.
Introducing Elder at the celebration, past BCEA president Janet Baum read a letter from Karen Moses, also a past BCEA president, who began with a quote from Oprah Winfrey: "Lots of people want to ride with you in the limo, but what you need is someone who will take the bus with you when the limo breaks down."
Moses continued, "When you need to run a phone bank and no one wants to come, Deana is there.
"When the old computers don't work, she fixes them. When the promised computers don't appear on time, she finds others.
"When employees don't know what to do, she teaches them.
"When it is hard to separate fact from fiction, Deana does her homework.
"She attends every school board meeting and bargains pure-fact-honest-number contracts. Board members have come to trust her over their own administration.
"When facing the challenge of passing a $122 million school bond, Deana rolls up her sleeves and leads by example: collaborating community wide, planning, and volunteering. She educates and then engages her members to register, walk, talk, vote, and triumph.
"And while the votes are tallied and the 'limo-riders' celebrate, Deana is back on the bus, working on ways to thank members and voters. … Much credit is given to the 'limo' crowd, but the hard work behind the scenes … is what passed this election.
"She is that rare friend who will not only take the bus with you, she will pull you out of the ditch, find the bus route, and figure out a way to come up with the fare."
KEVIN BOCK: PUBLIC EMPLOYEE MEMBER of the YEAR
When Kevin Bock learned he had been named MEA-MFT Public Employee Member of the Year, he characteristically credited his local union team.
"We have a great team," he says. "I think it's more about my team than me."
Bock believes in teamwork. He believes in solidarity and the union movement. "I am a staunch supporter of the right of workers to organize and collectively bargain," he says. "We need to be involved. If not, we'll lose these rights."
Bock grew up in Helena, graduated from Montana Tech, spent 16 years in the Air Force traveling all over the world, and came back to Helena to raise his family.
He works for the state Department of Revenue as a compliance auditor. He serves as president of his local union, the Dept. of Revenue Local #4993, a statewide local, and on the MEA-MFT Board of Directors.
To Bock, "it's not the union, it's our union." As part of MEA-MFT's state employee organizing project Bock has spent the last several months getting more state employee members involved in "our union." He has been visiting fellow state employees in their homes, talking about their work and how our union can help solve problems in the workplace. His own local has grown by 33 members as a result.
Bock is not just focused on state employee members, though. "We really need to emphasize solidarity – not just among public employee members, but throughout MEA-MFT," he says.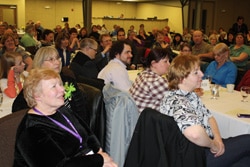 Hundreds of MEA-MFT members celebrated our Members of the Year.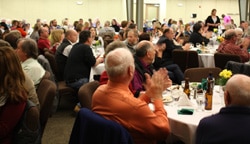 "We all have to be together. If we're not, we'll get capsized. There shouldn't be a division between teachers and public employees. We're all public employees. We're all in it together."
Solidarity extends to MEA-MFT's national affiliates, NEA and AFT, Bock says. "It's a huge benefit to us to have these national affiliations. There are things they can do that our locals can't do."
For example, he says, NEA and AFT provided funding and staff to help MEA-MFT save public employee pensions in the 2013 legislative session.
Introducing Bock at the celebration, MEA-MFT member-leader Rich Aarstad noted that when state employees organized to line the halls of the capitol in support of the state pay plan during the 2013 legislative session, "Kevin was always there, day after day."
He didn't come solo, Aarstad said. "He brought people with him. He understood the need to have people there."
Bock brought people to Representative Assembly this year as well, Aarstad said: 14 delegates, a record number for his local. "You can see an up-swell in state employee participation" in our union, Aarstad said, "and that's what we need."
MARY VERPLOEGEN: FACULTY MEMBER OF THE YEAR
Mary Verpleogen didn't come from a union family. Her first exposure to unions was at MSU-Northern in Havre, where she teaches computer information systems.
She grew up on a farm, and her father never talked about unions, but "he was a strong advocate for the underdog and giving people a chance," she says.
Her father also taught her, "You are no better than anyone else, and no one else is better than you." Those values helped her through some very tough times: the death of her first husband in Viet Nam, an abusive second husband, finishing school as a single mom, advocating for at-risk students.
To this day, she says, being active in the union means "fighting for the working people, fighting for the underdog, standing up for the rights that all people should have, and standing up for those who cannot stand up for themselves."
Verploegen has been a leader in her local union, the MSU-Northern Federation of Teachers Local # 4045, for many years. She serves on the MEA-MFT Board of Directors.
She was instrumental in bringing MEA-MFT's higher education leaders from across the state together to form the Coalition of Union Faculty (CUF). Her proudest accomplishment in MEA-MFT, she says, is "the CUF movement — the fact that higher education is so much more engaged statewide than they were."
At the beginning, CUF was "just three or four of us," Verploegen says. In recent years, up to 50 MEA-MFT faculty members have been active in CUF.
"It used to be that higher education faculty (on different campuses) didn't talk to each other," she says. "Now we are sitting at the same table together. We have each other's phone numbers – we're friends."
Verploegen's friendships in MEA-MFT extend far beyond higher education, though. "Through board meetings and coming to events like RA, I've made friends in every group in the union," she says, "and I cherish every one of these friends."
Seeing what is happening in other states, Verploegen says, "I know the fight for the union is far from over. I also know how important it is that we fight that fight. I always see more that should be done in the union, and I know I am not doing enough.
"At the same time, I know I am only one person. It is the collective group that gives us strength."