May 2014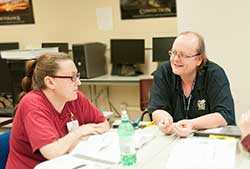 Top instructor Bruce Brumley works with a student. (MSU Billings photo)
Congratulations to MEA-MFT member Bruce Brumley, technology teacher for City College at Montana State University Billings (formerly the College of Technology).
Recently, the Cisco Networking Academy named Brumley its Number 1 instructor in all of the United States and Canada. He was selected from among nearly 4,000 other instructors.

Brumley also received the prestigious Expert Level Instructor Award—the highest recognition given to the top 10 percent of all Cisco Networking Academy instructors worldwide.
The Cisco Networking Academy works with schools around the globe to teach individuals to build, design, and maintain information technology networks through 21st Century learning.
The honors are given to instructors for their dedication and passion in the field of information and communications technology as well as their contributions and instructional excellence.