In Bozeman and all over Montana, MEA-MFT members are innovating, creating, and delivering top-quality educational opportunities for their students.

Congratulations to Bozeman Education Assoc. President Tami Phillippi and BEA for securing this major grant from one of MEA-MFT's two national affiliates, the National Education Assoc.

Governor praises Bozeman schools for innovative teacher mentors
http://www.bozemandailychronicle.com/news/education/article_3bf7160a-3555-11e4-bfe3-0019bb2963f4.html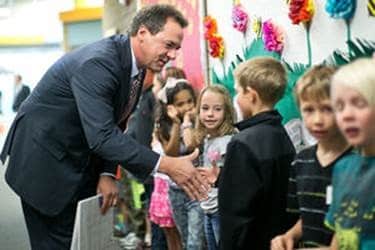 Adrian Sanchez-Gonzalez/Chronicle

Gov. Steve Bullock greets third-graders from Hyalite Elementary School in Bozeman on Friday, Sept. 5, while visiting the school with education officials for a meeting on innovation in Montana public schools.
By Gail Schontzler – Bozeman Chronicle – September 5, 2014

Gov. Steve Bullock visited Bozeman's Hyalite School on Friday to spotlight a new program that has veteran teachers work as mentors for new teachers.

Bullock praised the Bozeman School District's mentorship program as "really exciting" and said its partnership with Montana State University's teacher-training program is something the whole state could learn from.

"We can innovate within the system," the Democratic governor said. "I don't think our education community wants to rest on its laurels. … Some really good things are happening."

The visit was part of the governor's back-to-school tour from Billings to Missoula to highlight innovations in public schools.

Bullock said he'd seen "great, incredible" new programs, like first-graders learning to write on iPads, dual-credit high school classes that also give students college credits, and lessons with robots that get kids excited about science and technology.

Bozeman Schools Superintendent Rob Watson said he and Tami Phillippi, local teachers union president, applied to the National Education Association for a Great Public Schools grant. Bozeman schools won a $111,500 grant for this year and can apply for two more years. Watson said it shows the teachers union feels it's important to fund innovation.

The money hired two master teachers to work full-time with new teachers at four elementary schools – Hyalite, Whittier, Irving and Chief Joseph Middle School – that have high percentages of low-income students. The goal is to "close achievement gaps," Phillippi said.

The mentor teachers are Barb Pierre, a 26-year Bozeman teacher, and Sue Stolp, who taught eight years at Sacajawea Middle School. They will each work with about a dozen teachers who are in their first three years and don't yet have tenure.

Phillippi said because lots of experienced teachers are retiring, 30 percent of Bozeman teachers now are in their first three years.

Stolp said the mentors will focus on how to be good classroom teachers – a slightly different focus from the district's seven instructional coaches, who work more on how to teach math and other curriculum.

"I love working with new teachers," Pierre said. "Their energy is contagious. They're trying to get their feet on the ground. They have so many questions."

Pierre said instead of just sending new teachers out on their own and saying, "See you at 3!" the mentor teachers can be a "confidential shoulder to lean on" and offer advice throughout the day.

As part of the mentorship grant, Bozeman schools are working with MSU's College of Education. Jayne Downey, MSU's associate dean of education, said MSU is the state's largest teacher-preparation program with some 1,200 "pre-service" teachers.

Downey said it has been great to have Bozeman's mentor teachers, who have more "street credibility," meet with MSU's education majors.

The governor and educators gathered in a Hyalite School classroom that Watson dubbed "MSU West." MSU education majors come there for instruction several times a week and then go out into Hyalite classrooms to try out their lesson plans, learn what works and how to become teachers.

Lynda Ransdell, dean of MSU's College of Health, Education and Human Development, said the partnership is great for MSU students because the earlier they can get experience inside classrooms, the more likely they are to stay in college and graduate.

MSU President Waded Cruzado said the university and Bozeman schools have a "true partnership," adding that she meets with Watson once a month for pancake breakfasts to discuss common issues.

"We share the same passion for teaching, share the same passion for the future of our students," Cruzado said. "At the end of the day, the real benefit is to our students – these future Bobcats."