NEWS RELEASE
Montana Professional Teaching Foundation
1232 E 6th Ave, Helena, MT 59601, 406.447.1479

For immediate release: Sept. 22, 2014

Contact: Eric Feaver, Chair, Montana Professional Teaching Foundation, 406.442.4250; Craig Beals, 2015 Montana Teacher of the Year, 406-670-5280 (10:15-11:30 a.m. or after 3:30)

Craig Beals of Billings selected as 2015 Montana Teacher of the Year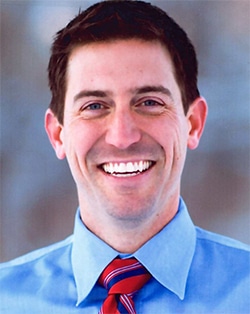 Craig Beals has a message to deliver: "Those who can, teach."

Beals himself is a case in point. He has done high-level scientific research all over the world, from Belize, Mongolia, Greenland, Borneo, and Africa to Montana.

He could work in many scientific fields, but what fascinates him most is the science of teaching. He wants people to know that teachers are top-notch professionals in their fields who have chosen to devote their lives to young people.

Beals will get a chance to deliver that message across Montana and America in the coming year. He was just chosen as the 2015 Montana Teacher of the Year.

"I'm just absolutely thrilled, overwhelmed, and humbled," said the Billings science teacher. "I'm so honored that I get to show the public the amazing things going on in public schools across Montana."

Each year, the Montana Teacher of the Year program recognizes a teacher who personifies the best in the teaching profession. The program is sponsored and administered by the Montana Professional Teaching Foundation, based in Helena.

Exploration, inspiration: Beals teaches earth science and chemistry in grades 9-12 at Billings Senior High School. He says his goal as a teacher is to inspire students to explore science and enjoy the world around them. He makes science "accessible and fun," said Dan Bartsch, chair of the science department at Billings Senior.

For example, Beals inspired his students to design and build the largest cardboard geodesic dome planetarium in the world, which was featured in a national journal. Hundreds of high school and elementary students view it every year and learn about geometry and astronomy.

He created a chemistry module called "The Chemistry of Coffee" to inspire students to connect to chemistry in a tangible way. They explored the chemistry of coffee by roasting raw green beans, controlling variables, collecting data, and tasting their results.

Beal has inspired hundreds of students to develop inquiry-based independent study projects, exploring and collecting data on anything that interests them and presenting results at a community showcase.

Community outreach: Beals believes in getting his students involved in their community. For example, he created the Earth Science Community Action ProjEct (ESCAPE), where students use their science skills to help the Billings community. His students have helped improve local parks, recommended new zoning, and contributed valuable water quality data to a national database for scientific research.

"With each connection to the community I watch adult perceptions of our young people improve, and I see my students' appreciation of the community expand," he said. "Everyone benefits from strong community ties."

"Students love his classes because they are treated like individuals," said Bartsch. "And they work exceptionally hard for him because he gets them to believe not only in the process of scientific exploration, but in themselves as well."


Beals believes building strong relationships between teachers and students is key to student success. "It's not in the job denoscription, but it's one of the most important things a teacher can do," he said. Listening to students, asking how they are – "those little things can change the culture of the classroom, change the culture of the school. We can't do enough of it," he said.

Showing compassion is "the opposite of being 'soft,'" Beals said. "Students actually rise to higher expectations." Beals recently was selected to give a TED talk about the power of student-teacher connections at TEDxBozeman.

A teacher of teachers: Beals shares his innovative teaching techniques with other teachers around Montana, the nation, and even the world through workshops and presentations. He teaches graduate courses for Miami University in Ohio, taking educators to conservation hot spots around the globe, where he shows them how to implement research and inquiry-based education into their classrooms.

Educational background: A Billings native, Beals earned a master's degree in Zoology at Miami University in Ohio and bachelor's degrees in Biology and Broadfield Science from Montana State University.

Family: Beals's wife works at the Yellowstone Boys and Girls Ranch. They have a three-year-old son and a five-year-old daughter.

As Montana's 2015 Teacher of the Year, Beals will serve as an ambassador for public education, represent Montana in the National Teacher of the Year program, and attend numerous national events along with the other state teachers of the year. "He'll be a fantastic representative for educators," said Anna Baldwin of Arlee, the 2014 Montana Teacher of the Year.

Baldwin, who had the honor of giving Beals the good news about his selection, said, "It's so exciting to watch someone so capable and enthusiastic go into this process knowing how much he'll grow and learn during the year."

Teacher of the Year process: Teachers nominated to be Montana Teacher of the Year undergo an exhaustive application process. Three finalists are chosen for interviews. This year's interview committee included representatives from the Office of Public Instruction, School Administrators of Montana, two educators, a parent and a high school student.

Finalists: Finalists in the 2015 Montana Teacher of the Year event are Casey Olsen, an English teacher at Columbus High School; and Tony Riehl, a math teacher at Skyview High School in Billings.

Craig Beals, Casey Olsen, and Tony Riehl will be honored at a gala celebration October 16 in Missoula. The Montana Professional Teaching Foundation sponsors the celebration in conjunction with the annual MEA-MFT Educators' Conference.

##
The Montana Professional Teaching Foundation, based in Helena, works to enhance the teaching profession and promote quality education in Montana. The Montana Teacher of the Year program is one of several projects sponsored by the foundation. Others include:
• Karen Cox Memorial Grants to help teachers who pay for classroom resources out of their own pockets.
• National Board Certification & Candidate Support.
• Presidential Awards for Excellence in Mathematics & Science Teaching.
• Jim McGarvey Scholarships.