1-19-15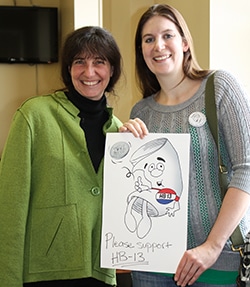 Kate Hampton (L) and Jessica Bush, MT Historical Society employees and MEA-MFT members.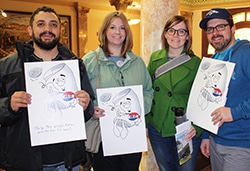 From left: Andrew Elford, Tessa Gray, Rachael Milne, and Gene Meegan. All but Tessa are Dept. of Revenue members. Tessa is with the Dept. of Admin.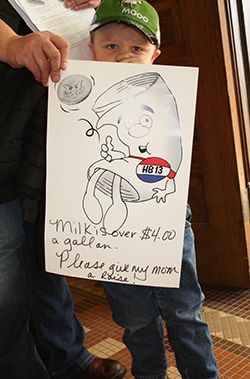 Wyatt Cobban, age 3, helps his mom, DPHHS employee Erin Carol Cobban, get the message across.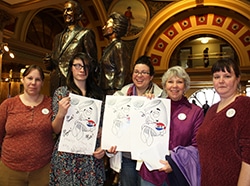 State employees at the Mike Maureen Mansfield statue. Mike and Maureen would likely join us in saying, "Pass HB 13."
More photos on our Facebook page
About 100 Montana state employees gathered at the capitol today to ask legislators to pass HB 13, the state pay plan, on behalf of all state employees.

MEA-MFT members made a strong showing, led by MEA-MFT Secretary Treasurer Rich Aarstad. They joined with MPEA and AFSCME members to talk with legislators and carry signs in support of the 50 cent an hour pay plan proposal embedded in HB 13 (Swanson).

The pay plan, negotiated by Montana state employee union members and Gov. Bullock's office, provides:
– 50¢/hour raise in 2015 and 50¢/hour raise in 2016.

– Increases in the employer's contribution to our insurance premium: 10% increase effective Jan. 2016 and 8% effective Jan. 2017.

Next Day of Action: Monday, February 16 (Presidents Day).
Give a couple hours of your holiday to speak up for your paycheck and your family!

WHERE: Meet at Jefferson School, 1023 East Broadway, Helena. From there we'll go to the state capitol (1 block away)
WHEN: Monday, Feb. 16 (Presidents Day)
TIME: 10:30 a.m. SHARP to 1:00 p.m.
Questions? Contact Morgan Smith: [email protected]