2-3-15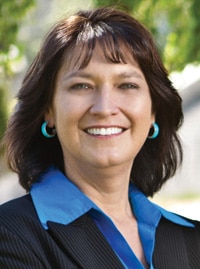 Supt. of Public Instruction Denise Juneau gave an outstanding State of Education address yesterday in the MT House of Representatives. It was her last State of Education address, as term limits kick in after next year.
"Denise has been and will continue to be one of the finest, most authentic Montana leaders of any generation," said MEA-MFT President Eric Feaver. "She is our friend. She is my friend. She is a member of this GREAT union."
You can watch Denise's address here
The entrance alone is well worth watching!
Also read articles below.
Juneau gives last State of Education address
By Kristen Cates – Great Falls Tribune – February 3, 2015

In her last State of Education address to Montana's Legislature on Monday, State Superintendent Denise Juneau hammered home her belief in the power of Montana's public schools.

The Democrat, who was the first female Native American woman elected to statewide office in the country in 2008, received a standing ovation for that fact alone as she launched into a speech that celebrated the successes she's had in office and hopes for what she thinks the Legislature can accomplish in this session. "We have a lot to be proud of in our state," Juneau said.

She mentioned Graduation Matters Montana, a program that launched with support from the Dennis and Phyllis Washington Foundation in 2010 and has seen the dropout rate lowered and the graduation rate improved in five years. The initiative is now operating in 48 communities, and with more funding from the Washington Family announced last month, Juneau said she hopes that can expand.

Additionally, she talked about the Schools of Promise program that used federal funds to reach into the five poorest-performing schools in the state — located predominantly on Indian reservations — and overhauled some of the education system while incorporating more community support to help make improvements.

"Where we have challenges in the public education system, we face them head on," Juneau said.

But there is still work that needs to be done. Juneau is campaigning for the legal dropout age in Montana to be raised to 18. It's a bill that has been introduced each session she's been in office but has not yet been carried through. Montana's dropout age was set at 16 back in 1921.

"Our 21st century realities cannot be sustained by our 100-year-old policies," she said.

Juneau also voiced support for Democratic Gov. Steve Bullock's Early Edge initiative, which aims to pump an additional $37 million into K-12 funding to provide public preschool programs across the state. And she's hopeful the Legislature will the bill being carried by state Sen. Mary Sheehy Moe, D-Great Falls, to provide funding to educate 19-yearold students across the state.

Juneau mentioned Great Falls' Paris Gibson Education Center in her speech and the fact that Great Falls educates 19-year-old students now, even without additional state funds.

Juneau also took a small jab at some Republican efforts to allocate public funds to private education.
"Unfortunately, efforts are underway again to pass legislation that would drain resources away from our community schools," Juneau said. "We cannot afford to backtrack on the constitu¬tional promise of a free, quality public education for Montana children. Public schools are open to all children. There are no lotteries to get in. They are accountable to the public and transparent about every dollar that is spent. They are the heart, and the economic engines, of our communities. They are our schools."

State Rep. Sarah Laszloffy, R-Laurel, who chairs the house education committee and is a strong proponent of private education, said she enjoyed Juneau's speech but can't agree with her on all of the points she made.

"While I didn't agree with every point she made, I could agree with her on the majority of her points, including her work toward addressing the dropout rate and her praise of the quality teachers we have in Montana," Laszloffy said. "I was happy to hear her praise the digital academy, as well, as I'm very fond of that innovation in our schools, especially for our rural schools."
State Rep. Jean Price, D-Great Falls, who also sits on the house education committee, said she appreciated Juneau jabbing those who wish to take funding away from public schools.

"They needed to be jabbed," Price said. "She did kind of gently make that point, and I appreciate that."

_______________

Juneau: Back preschool and bills to boost graduation rates

ASSOCIATED PRESS – BILLINGS GAZETTE – FEBRUARY 3, 2015
HELENA — Superintendent of Public Instruction Denise Juneau is asking lawmakers to support state-sponsored preschool and initiatives that build on efforts to increase graduation rates.

Juneau spoke to a joint session of the Montana House and Senate on Monday. The Democrat is in her second term.

She says more students are staying in school, the graduation rate is at an all-time high of 85 percent and that dropout rates have decreased as part of an initiative called Graduation Matters.

Juneau says her Schools of Promise initiative targeting several of the lowest performing schools would be expanded to four new communities under proposed legislation.

Juneau asked lawmakers to increase the compulsory attendance age from 16 years old to 18 years old and support a measure that would give state financial support to schools for 19-year-old students.