3-11-15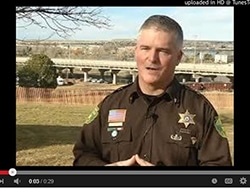 Listen to the Early Edge radio spot with Sheriff Bob Edwards
The House Appropriations Committee voted yesterday against Gov. Bullock's Early Edge proposal for voluntary public preschool. On a party line vote, the committee rejected efforts to put Early Edge funding ($37 million) into the state budget bill, HB 2.
Early Edge was originally in the Montana Office of Public Instruction's portion of the budget as proposed by the governor's office.
The committee made this decision in spite of overwhelming support for Early Edge.
It's disappointing, but this isn't the end for Early Edge. We have options and will keep working with the thousands of Montanans who support public preschool for all 4-year-olds whose parents want to participate, in all school districts that choose to participate.
House floor debate on HB 2 is expected March 18-20.
See sample of the newspaper ad for Early Edge that appeared in several newspapers targeting R legislators who we hope could be persuaded to support Early Edge. Legislators targeted include: Duane Ankney, Ray Shaw, Christy Clark, and others.
New stories follow:
House budget panel rejects Gov. Bullock's preschool proposal on party-line vote
Early Edge | GOP reps say decision was 'budget-driven'

MIKE DENNISON IR STATE BUREAU – MARCH 11, 2015
Republicans on a House budget panel voted Tuesday evening to reject Democratic Gov. Steve Bullock's $37 million, two-year proposal for state-funded preschool in Montana.
The party-line, 12-8 vote by the House Appropriations Committee defeated an attempt by Democrats to insert the new program into House Bill 2, the session's major budget bill.

The vote came as Republicans on the committee worked toward wrapping up their work on HB2 Tuesday night and sending it to the House floor.

The Republican majority on the panel has been rejecting nearly all Democratic-sponsored amendments attempting to add money to the state budget, saying it wants to maintain a bill that increases state spending about 8 percent over the next two years.

Rep. Roy Hollandsworth, R-Brady, said the vote to reject preschool funding wasn't a statement on the merits of the program, but rather a decision by the GOP majority to keep increases in state education spending to 3 percent a year over the next two years.

"There are some other places where a little bit of money would go a long ways," he said. "It was budget-driven."

The preschool proposal is one of Bullock's major initiatives this Legislature. His administration proposed allocating up to $37 million in state money to fund voluntary preschool, with school districts deciding whether to offer it and parents given the choice of whether to send their children to the program.

Montana is one of the few states in the nation without any state funding for preschool.

Denise Juneau, the state's Democratic superintendent of public instruction and a supporter of the preschool program, said after the vote it's "really not a lot of money, if you're asking to fund these new programs across the state."

Republicans' rationale for rejecting the spending sounded like "keeping spending under some arbitrary number," rather than deciding whether the spending is good policy or not, she said.

Juneau said the proposal isn't dead, and that she expects supporters will try to insert it into the budget bill on the House floor next week.

Rep. Tom Woods, D-Bozeman, offered the amendment on Tuesday to include the $37 million preschool program in HB2.

"There has been a great deal of research that shows that this (program) is effective," he said. "I can speak from personal experience that (preschool) benefited my children."

Preschool helps children succeed and perform better in elementary school, he said, and it's often unaffordable for many families.

Funding for public preschool and special education increase not included in budget proposal
Associated Press
Published 3/6/15
The Joint Appropriations Subcommittee on Education presented a budget Friday evening for the Montana Office of Public Instruction that did not include funding for an inflationary increase in Montana's special education budget or public preschool.

Public comment was full of support for amendments to place both measures back in House Bill 2, the state's general fund budget.

Tim Miller, who was there speaking for 21 education cooperatives around the state, said special education would be the only piece of the education budget not to receive an inflationary increase. Leaving it out forces districts with increasing special education needs to pull money from other areas of their budget. Miller said that especially affects rural school districts with small budgets.
"Overlooking an inflationary increase for special education simply compounds and makes the problems worse for our rural schools," he said.

Chair of the Appropriations Subcommittee on Education, Rep. Roy Hollandsworth, R-Brady, said they left it out of the budget in an effort to limit the expansion of the Montana Office of Public Instruction's budget, which accounts for roughly 40 percent of the state general fund budget. A staffer added that a special education funding increase to match inflation was not requested in the governor's budget.

Andrea Johnson, superintendent of Townsend schools, also spoke in support of the inflationary increase, saying the last five years has brought an influx of special education students to the district and providing for them has become increasingly difficult.

"Further budget cuts will endanger our accreditation status, we are currently at bare minimum," Johnson said.

Ali Bovingdon, Gov. Steve Bullock's deputy chief of staff, spoke in support of the governor's Early Edge Montana program. Bullock's proposed preschool program requires $37 million over two years to provide block grants so school districts that opt in to providing public preschool could establish classrooms or partner with existing private providers.

Bovingdon also stressed that parents would also have a choice of whether to send their children to preschool or not. One of eight states without public preschool, Bovingdon touted the program as a way to maximize education benefits and put all students on a level playing field in Montana.

"Decades of research tells us that high-quality early education preschool has short and long term benefits," she said.

No one spoke in opposition of Early Edge Montana, but Rep. Mitch Tropila, D-Great Falls, did echo previously voiced concerns when he asked if the public program in Great Falls was taking students away from private providers.

Great Falls and several other school districts around the state have pulled money from their budgets to make publicly funded preschool in their communities possible.

Tammy Lacey, superintendent in Great Falls, told Tropila that the district's program did not undermine private providers because it targeted students from lower-income families who could likely not afford private preschool.

Lacey said their program, founded in 2010, has already yielded a return on investment because their data is showing more students are attending kindergarten ready to learn.

"Our students who attend our preschool were ready for kindergarten; what that means is we have to spend less money on interventions," she said.

No executive action was taken by the Appropriations Committee.