State & university pay plan, HB 13, finally gets heard March 16

Please take action: Contact members of the House Appropriations Committee. Urge them to vote DO PASS on HB 13.
You can leave a message for the entire committee by e-mail here or by calling 406-444-4800.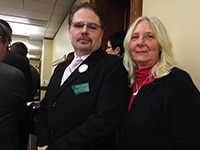 Kevin Bock & Renne't Sarbu were two of several MEA-MFT members to testify for HB 13.
At long last, the House Appropriations Committee got its a hearing on the pay plan – House Bill 13 — for Montana state employees, including university employees.
The hearing took place Monday, March 16. Several MEA-MFT state and university employee members testified.
Read news story

State employee Rich Aarstad, MEA-MFT secretary-treasurer and senior archivist/historian at the Montana Historical Society, was one of the folks to testify. He also wrote this letter to the editor about HB 13, which was published in Montana newspapers.
Montana state employees have been patiently awaiting the hearing throughout the 2015 legislative session.
HB 13 contains the pay plan negotiated between the governor's office and state employee unions. State law requires employee unions and the governor's office to agree to a pay plan before each legislative session. But the legislature must yet approve the agreement by passing HB 13.
The pay plan in HB 13 provides very modest salary and benefit improvements for state employees:
• 50-cents-per-hour increase in base pay for all state employees beginning October 2015, and another 50-cent increase beginning October 2016.

• Increases in the state's contribution to state employee health insurance premiums in 2016 and 2017.

Background:
Unfortunately, the recent history of the Montana state pay plan has been a story of frustration and political games.

In 2009, state employees voluntarily agreed to a pay freeze for the 2011 biennium, which played a major role in helping the State of Montana get safely through the Great Recession.

In 2011, despite having plenty of available cash on hand, the legislative majority refused to act on the pay plan, thus freezing state employee pay for another two years.

In 2013, after four and in some cases five years of frozen pay, state employees and the governor's office agreed to a 5% percentage increase each year of the 2015 biennium. But after weeks of inaction on the pay plan bill, the 2013 legislative majority failed to pass the plan as negotiated. Instead, the legislature appropriated a lump sum for Gov. Bullock and state employee unions to spend on pay increases for state employees after the session adjourned.

Throughout the 2013 session, majority legislators urged state employee unions to submit a pay plan with a flat dollar increase instead of a percentage increases. They said it would help workers at the bottom of the pay scale.

So that's what state employee unions and the governor agreed to present to the 2015 legislature – a flat half-dollar increase. Yet the legislative majority has nonetheless held HB 13 hostage throughout this session. The March 16 hearing is the first time HB 13 will have seen the light of day.

Failing to pass the pay plan in its current form will have many negative consequences — including tuition increases for college and university students, more state agency budget cuts, staff shortages, hiring freezes, and salaries that don't keep up with the cost of living.

State employees have already struggled with these realities for years. Some state employees qualify for food stamps. Many of them work a second job to make ends meet.

State employees are dedicated, hard-working Montanans who live and work in communities all across the state. The programs and services they provide help families, communities, and businesses thrive in Montana.
Fifty cents an hour is hardly a generous increase, but it will help state employees make ends meet. It will also give them a little more to spend on goods and services in their local communities – helping bolster their local economies.