For release: November 30, 2015

Contact:
Sue Stewart, 406-771-6090 (afternoons), 406-750-3119 (cell)
Eric Feaver, MEA-MFT President, 442.4250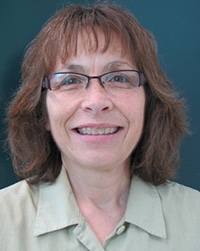 Sue Stewart
Sue Stewart honored as Montana's Education Support Professional of the Year
"A top-notch, gold-star human being"

"Energizer Bunny for the whole school"

"A light post of positive energy and ambition for students and their families"

"Humble and loving and giving all wrapped up into one"

That's how some of Sue Stewart's co-workers and parents of her students describe her. "Super Sue" is her nickname at the Montana School for the Deaf and the Blind in Great Falls.

Sue Stewart is the kind of person you want in your corner. That goes double if you happen to be a child who is blind or visually impaired, or the parent of such a child.

Stewart works as a paraprofessional and media clerk at the Montana School for the Deaf and the Blind (MSDB). For 25 years, she has devoted her life to helping Montana students who are blind and visually impaired live independent, happy, fulfilling lives.

"It's the most rewarding job I've ever had," she says. "I've watched these kids from age three through graduation."

Stewart was recently honored as Montana's 2016 Education Support Professional of the Year by MEA-MFT. MEA-MFT is the statewide union representing about 18,000 Montana educators and other public employees.

Stewart will now go on to represent Montana in the National Education Support Professional of the Year event. The program honors the crucial work done by the unsung heroes in our public schools who work alongside certified teachers — folks such as school bus drivers, custodians, secretaries, and paraprofessionals like Stewart.

In Stewart's role as a paraprofessional, a typical day could find her helping a five-year-old learn to read beginning braille, lifting a multi-handicapped student from his wheelchair, helping teach kids to swim, showing students how to navigate with a white cane, helping a math student with Nemeth (braille code for math), and providing job coaching to a high school student. And that's just for starters.

All of these tasks required hours of specialized training, but Stewart loves tackling new skills. She has taken numerous courses in braille. She learned sign language so she can communicate with deaf students. When the school needed a certified bus driver for its handicapped bus, Stewart studied for and passed a special driving test so she could fill that gap.

In 2010, Stewart began training to earn national certification as a braille trannoscriptionist from the Library of Congress. This required four years of intensive braille classes – all while holding down her full-time job at MSDB.

Today, she is just one of just five people in Montana certified as a braille trannoscriptionist. This skill allows her to take a document such as a textbook and translate it into braille. She embosses the final product, turning it into raised dots that children who are blind and visually impaired can read.

For the past three years, Stewart has taken on the part-time job of media clerk at MSDB, through the American Printing House for the Blind. In this role, she works with educators all across Montana to make sure they have the materials and books they need for their students who are blind and visually impaired. These materials range from toys for use with babies to high-tech electronic devices used by students in upper level classes.

Stewart also takes on many after-hours programs, such as coaching goalball, sponsoring Cane Club and senior class, and co-directing the school's Visually Impaired Performers (VIP). Last year she helped create a new club at MSDB called the Jogging Jokers to bring more physical activity into students' lives.

She has co-directed Montana's State Games for the Visually Impaired for many years. Through programs like Family Learning Weekends and Summer Skills Camps, she connects with children and families from all over Montana.

Dream job: Stewart says working with these children is her dream job. "I'm doing what I always wanted to do," she says. "Every day I go to work happy and come home happy."

According to the people she works with, the happiness is contagious. "Sue spreads sunshine wherever she goes," says Staci Bechard, librarian at MSDB.

Former student Kayla Reed says Stewart's "fun-spirited nature" and "can-do, no-nonsense attitude" inspire the best in her students.

Reed remembers wanting to compete in the 100-yard-dash as a student. Stewart trained with her as a running guide. "She said, 'What are you waiting for; let's get this done,'" Reed recalls. "The next thing I know, she's running my legs off so that she can fulfill a young girl's dream."

"I never really see Sue sit down," says co-worker Norma Kelley. "She arrives to work early and starts the coffee and makes sure the building is warm in winter. She is always working, and through it all she has a smile on her face."

"Knowing that my work touched the life of a student is what keeps me going," Stewart says. In her 25 years at MSDB, she has touched hundreds of students' lives – if not thousands.

She points out that education support professionals' jobs often come with little recognition and a small paycheck. "I wouldn't be here as long as I have been if I didn't believe that what I am doing every day matters to my students, their families, and my co-workers," she says.

#

MEA-MFT represents around 18,000 k-12 teachers and school support staff, Head Start employees, state and county employees, university faculty, and private-sector health care providers working in communities all across Montana. MEA-MFT is a merged affiliate of the National Education Association and American Federation of Teachers and is the largest affiliate of the Montana State AFL-CIO.