For immediate release: December 1, 2015
Contact: Eric Feaver, MEA-MFT President, 406-442-4250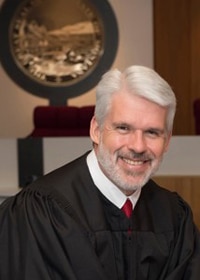 MEA-MFT, Montana's largest labor union, endorses Jim Shea for Montana Supreme Court

MEA-MFT, Montana's largest labor union, recently announced that its Committee On Political Education (COPE) has endorsed Justice Jim Shea for Montana Supreme Court in the 2016 election.

Justice Shea is running to retain his seat on the high court. He was appointed in 2014 to fill a vacant position on the court.

MEA-MFT is composed of about 18,000 Montana public employees, including employees in k-12 public schools, state and local government, higher education, Head Start, and health care.

The 34 members of MEA-MFT's Committee On Political Education (COPE) live all across the state and represent all of MEA-MFT's membership groups. They include Republicans and Democrats.

MEA-MFT COPE members endorsed Shea after an extensive candidate interview. "COPE members were impressed with Jim Shea's experience as a judge and the fact that he decides cases based on facts, the law, and the constitution," said Eric Feaver, president of MEA-MFT.

"Shea worked several years as the presiding judge of the Montana Workers' Compensation Court, where he dealt with people in very difficult life situations," Feaver said. "He ruled according to law, not according to what he wanted to do personally."

As a Supreme Court justice, Shea has continued his strict adherence to facts and the law, Feaver said. "If there are questions on whether something is constitutional, Jim Shea rules for the constitution itself, not his personal, subjective interpretation of it or the flavor of the day."

In addition, Feaver said, "Shea is a genuine human being. He's open, friendly, and he likes people. These are all good attributes for a judge. He's a fourth-generation Montanan who worked to put himself through college. He can relate to everyday Montanans. Plus, he's a collaborator; he works well with other justices. The Montana Supreme Court needs to be a team. Not that there isn't dissent – there is supposed to be disagreement. But the court still needs to work together. Jim Shea excels at teamwork."

#

MEA-MFT represents 18,000 k-12 teachers and school support staff, Head Start employees, state and county employees, university faculty, and private-sector health care providers working in communities all across Montana. MEA-MFT is a merged affiliate of the National Education Association and American Federation of Teachers and is the largest affiliate of the Montana State AFL-CIO.