12-10-15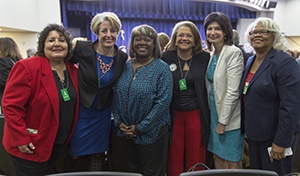 MEA-MFT member Mary Jo Bremner, left, was one of those invited to the White House ceremony to celebrate the signing of ESSA. Second from the right is NEA President Lily Eskelsen Garcia.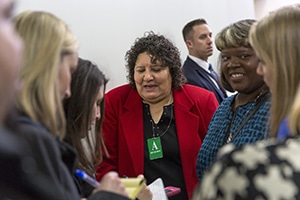 Center: Mary Jo Bremner.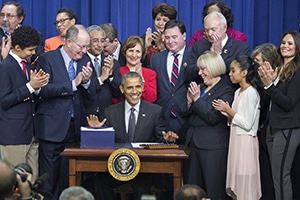 Public school supporters applaud after President Obama signs ESSA.
It's over: the long and troubled "shame and blame" era of No Child Left Behind (NCLB) came to an end today.
After years of failed efforts, Congress finally passed NCLB's replacement: the Every Student Succeeds Act (ESSA). And today, President Obama signed the bipartisan bill into law.
MEA-MFT and our two national affiliates, AFT and NEA, have worked for years to end the punitive NCLB policies. As Politico reports, "The unions helped build the recent groundswell of opposition to standardized tests that prompted a vow from the Obama administration to curb overtesting and even spurred bills on the Hill that would have gutted the [NCLB's] annual testing mandate."

MEA-MFT member Mary Jo Bremner, a teacher at Browning High School on the Blackfeet Reservation in Montana, was invited to join President Obama at the White House signing ceremony along with several other educators and students. NEA President Lily Eskelsen García and AFT President Randi Weingarten were also present.
"After 15 years of not having a say in public education, I feel very humbled and privileged to witness the signing of this new education law," said Bremner.
"In my mind, other people get to see things like this, not me. But this is awesome. My hope is we'll now get back to where teachers can actually teach and all students can receive the type of education that ignites their curiosity and desire to learn."
ESSA ends the NCLB era of heavy-handed federal control of schools. It ends the annual grading of schools called Adequate Yearly Progress. It ends efforts to tie teacher evaluation to student test scores. It does keep the requirement for annual testing in grades three to eight, plus once in high school.
Denise Juneau, Montana's Superintendent of Public Instruction and an MEA-MFT member, has been heroic in fighting the most onerous aspects of NCLB.
The U.S. House voted to replace NCLB with ESSA last week by a vote of 359-64. Montana's sole congressman, Rep. Ryan Zinke, voted in favor. Yesterday, the U.S. Senate followed suit, voting 85-12 in favor of ESSA. Montana Senator John Tester voted yes, Steve Daines was one of the few senators to vote no.
The new law requires states to develop plans for making academic progress and submit the plans to the U.S. Education Department.
The Bozeman Daily Chronicle quotes MEA-MFT President Eric Feaver's reaction to the ending of NCLB and beginning of ESSA thus:
"'I've always hated No Child Left Behind,' said Eric Feaver, president of the MEA-MFT teachers union. Feaver said efforts to shut down schools for poor test scores were 'abusive' and that the 'odious' Adequate Yearly Progress ratings 'drove teachers and schools nuts.'
"'You could never reach 100 percent proficiency. What kind of madness creates a system where everyone ultimately would fail?' Feaver said. 'Now the onus is on us (Montana) to govern ourselves and do it smartly.'" ("Montana and Bozeman officials react to Senate vote ending No Child Left Behind," Gail Schontzler, 12-9-15)
Read news stories about ESSA and how it affects Montana below.

http://mtstandard.com/news/local/new-federal-education-law-could-save-local-districts-money/article_7803e187-2186-5fa1-b5f9-25328bfa36c8.html
____________________________
http://www.bozemandailychronicle.com/news/education/montana-and-bozeman-officials-react-to-senate-vote-ending-no/article_bacf2a47-277b-5d17-bb15-f5e8225f39de.html
______________________________
http://www.kxlh.com/story/30708159/tester-daines-split-on-bill-to-replace-no-child-left-behind#.VmiQ52ux-Cg.twitter
______________________________
http://www.publicnewsservice.org/2015-12-10/education/montana-educators-cheer-passage-of-bill-to-replace-no-child-left-behind/a49364-1