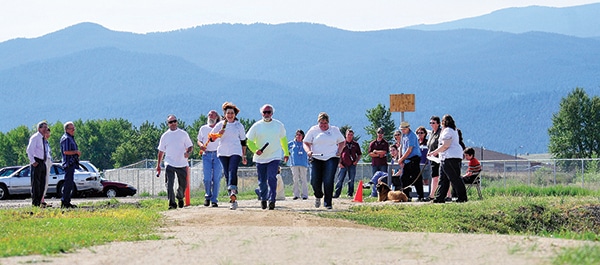 The Montana Developmental Center in happier times, celebrating completion of the facility's new walking trail, part of MDC's extensive mental and physical treatment options for clients. Eliza Wiley photo, Independent Record
2-25-16
"Legislators were sold on the closure bill based on three premises. All three premises have been proven false."
George sat in his Missoula jail cell for days, crying uncontrollably. The young man with developmental disabilities, a child in an adult body, has trouble controlling his emotions.

When George got upset with his group home staff person because the movie they had just watched made her sad, he hit her with a frying pan.

When police arrived, he was out of control, threatening to kill the staff member. He bit a police officer and was taken to jail.

Everyone knew he didn't belong there, but there were no options. No group setting would take him.

The Montana Developmental Center (MDC) in Boulder provides stabilization, assessment and treatment for people in crisis like George. But it is slated to be closed and can't take new clients.

George's story is one of several tragic, true stories told to Montana's MDC Transition Committee by private group home providers. They are concerned about what will happen if the State of Montana no longer has a provider of last resort for people with disabilities and mental illness.

MDC is currently the provider of last resort. Now the legislature has ordered it be closed under SB 411, passed in the 2015 legislative session. If it closes, where will clients like George go?

Another private provider told the transition committee of a different client in crisis. Montana facilities, public and private, would not take this client. MDC was not allowed to take him. The provider's solution: renting a hotel room for the client and observing the client from a distance, hoping nothing would go wrong, that the client would not hurt himself or others.

MDC is a state facility for people with serious developmental disabilities plus mental illness or behavioral problems that cause them to be a danger to themselves or others. It currently serves more than 50 clients.

Senate Bill 411 (Caferro), the bill to close MDC, required that the MDC Transition Committee be appointed to oversee the transition of MDC patients to private facilities.

MEA-MFT Executive Director Erik Burke serves on the 15-member committee. The committee has been meeting since June, 2015 and will be disbanded by June 30, 2017. Committee members include legislators, state agency representatives, parents of disabled people, county commissioners, and advocates.

Painful process: "It has been very painful to hear the stories of people who need these intensive services and to learn the hardships they will face because of SB 411," Burke said.

"Frankly, it makes me angry to see this happening."

When the transition committee toured MDC at the beginning of their deliberations, "we were impressed with the facility, the treatment, and the quality of the staff," said Burke.

"MDC is a community. It's too bad legislators didn't go to MDC before they voted to close this facility. If they had, they would have taken an informed vote. Instead, they based their votes on bad information and scare tactics. Shameful."

MEA-MFT and other advocates worked tirelessly in the 2015 session to convince legislators not to close MDC. The closure bill, sponsored by Senator Mary Caferro and pushed through the House by Rep. Art Wittich, passed despite a massive effort by people opposed to the closure.

"What happens to our children?" Parents and guardians of MDC patients continue to speak out against the closure. Carol Dailey, a member of the transition committee and parent of a child at MDC, said, "What happens when our children fail in private group homes? Is there any choice other than prison? Or will they be shipped out of state? Montana needs a facility of last resort, and we will lose that if MDC closes."

Sold on false premises: According to Jefferson County Commissioner and transition committee member Bob Mullen, "Legislators were sold on the closure bill based on three premises: … it is less expensive to provide services in the private sector, it is difficult to get good staff in Boulder, and there is pervasive abuse at MDC. All three premises have been proven false."

The committee has concluded that moving MDC patients to private group homes will cost the state more than keeping MDC open.

It learned that Montana private group homes have over 100 staff vacancies due to inadequate wages and salaries.

The committee also heard testimony that claims of abuse at MDC are severely overblown. While every claim of abuse should be investigated, throwing a teddy bear is one example of incidents included in Disability Rights Montana's information used to justify closing MDC.

Abuse incidents in private group homes occur to the same extent as at MDC, as in the case of George, but they are held to a different standard of scrutiny: they are investigated by the group homes themselves. Just one private community provider, AWARE in Butte, had 18 incidences of substantiated abuse/aggression in the last year and two in the last month, with at least one resulting in felony charges against an AWARE staffer.

Regardless of the outcome of SB 411, MEA-MFT and parents and guardians of MDC clients will continue working together to make sure MDC clients are cared for and safe, no matter where they are placed. "We're in this for the long haul," said Burke. "This is wrong and we will continue to fight for appropriate services for these clients."

As for George, when his story came to the attention of the state he was released from jail. He is in a Missoula apartment, with 24/7 staff supervision from the private provider.

That's much better than jail, but is he receiving appropriate treatment in the least restrictive environment? Or is he isolated with few services and little hope for improvement?

Contrast that with MDC, which has highly trained professionals, quality physical and mental therapy, recreation opportunities, a chance to learn skills in a safe and secure environment, and a long history of success with people like George.

Sadly, George's story shows that Montana's most vulnerable patients are already suffering as Montana goes down the path of privatizing all of its services for people with developmental disabilities.
UPDATE Feb. 25, 2016: Since MEA-MFT first published this story in MEA-MFT Today, Winter 2016, George was returned to the group home. He had another violent outburst, hurt others in the group home, and tried to kill himself. He was taken to the hospital, where it took six people to subdue him. With MDC unable to take new patients in light of SB 411, there is no placement of last resort for George and others like him.