Don't miss it!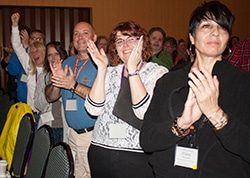 Some of the 300-plus delegates at
last year's RA
"Super-informative & super-encouraging"
"Energy & excitement"
"Like a family reunion."

That's how some MEA-MFT members have described our annual Representative Assembly (RA). This year, RA takes place April 1-2, 2016, at the Radisson Colonial Hotel in Helena. More than 300 delegates will attend.

Make sure your local sends its share of delegates to RA!
Every local MEA-MFT affiliate is entitled to send at least one delegate. Delegates are selected at the local level. MEA-MFT covers the cost of travel and meals. Don't let your local go unrepresented! If you have any questions about the process, contact Becky Thomas: [email protected] or call 800-398-0826 or 406-442-4250.

What's on the docket at this year's RA
Delegates will:
Debate and vote on dues, new business items, amendments to the MEA-MFT constitution, MEA-MFT legislative program, and more.

Elect statewide officers.

Hear from several candidates for statewide office, including Gov. Steve Bullock, Denise Juneau, Melissa Romano, and others.

Get important updates on state and national issues that affect us as union members and public employees.

And much more.

Celebrating MEA-MFT Members of the Year
Delegates will also gather to celebrate this year's Education Support Professional of the Year, Public Employee of the Year, and Faculty Member of the Year.

Links to proposed dues, amendments, nominations, and more
You'll find links to the RA calendar, agenda, and proposals in the MEA-MFT Members Only section. To read this information, go to the Members Only log-in page and follow directions from there.

Are you a first-time user of the Members Only section? You'll need the last 7 digits of your Member ID number from your MEA-MFT membership card.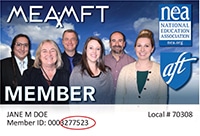 Any problems logging in? Contact Susan Willkins: [email protected]
Little Representative Assemblies
Every year, MEA-MFT members gather for "Little RAs" in their local regions prior to Representative Assembly to get a preview of issues that will be addressed by the full RA. MEA-MFT members are encouraged to attend the Little RA closest to you. Here's the schedule:

• Butte: Carpenters Union Hall, 156 W. Granite, 6:00 p.m.- Monday – March 7, 2016

• Helena: MEA-MFT, 5:00 p.m. – Tuesday – March 15, 2016

• Havre: MSU Northern SUB (Crowley Rm.) 6:00 p.m. – Tuesday – March 22, 2016

• Missoula: Missoula EA Office, 5:30 p.m. – Wednesday – March 2, 2016

• Great Falls: Great Falls EA Office, 10:00 a.m. – Saturday – March 5, 2016

• Wolf Point: Elks Dining Room, 6:00 p.m. – Wednesday – March 23, 2016

• Billings: Billings EA Office, 10:00 a.m. – Saturday – March 19, 2016

• Bozeman: Johnny Carino's Restaurant, 5:15 p.m. – Thursday, March 24, 2016

• Miles City: Rib & Chop House, 5:00 p.m. – Saturday – March 19, 2016

• Kalispell, Labor Temple, Thursday, 7:00 p.m. – March 10, 2016