Spring 2016
| | |
| --- | --- |
| | |
| Phil Condon, Faculty Member of the Year | Sue Stewart (center), Education Support Professional of the Year |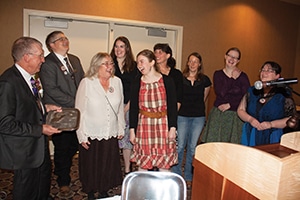 Representatives of the Montana Federation of Historical Society Workers, Public Employee Members of the Year
Every year, MEA-MFT honors several members who are champions at their jobs and in their local unions. We celebrated the 2016 Members of the Year April 1, honoring the following awardees:

Sue Stewart, Education Support Professional of the Year: "Super Sue" is what they call her at the Montana School for the Deaf and Blind (MSDB). For 25 years, paraeducator and media clerk Sue Stewart has devoted her life to helping students with visual impairments live independent, happy lives.

A typical day could find Stewart helping a five-year-old learn beginning braille, teaching kids to swim, showing students how to navigate with a white cane, and job-coaching a high school student.

That's just for starters. After hours, Stewart coaches goalball, sponsors Cane Club, and co-directs the school's Visually Impaired Performers and the statewide Games for the Visually Impaired.

Stewart is one of just five people in Montana certified as a braille trannoscriptionist, translating documents into braille. As MSDB's media clerk, she helps educators across Montana get materials for students with visual impairments.

"Ask her to take care of something and you never have to think about it again," said MSDB retired teacher Pam Boespflug, introducing Stewart at the celebration. "Ask her to do something really difficult that she has never done before and she replies, 'No problem.'"

Montana Federation of Historical Society Workers, Public Employee Members of the Year: They're a small local, about 30 members, but they're mighty. And if life is all about showing up, then MEA-MFT members at the Montana Historical Society (MHS) are living large.

Case in point: During the last two legislative sessions, MHS members took the lead in fighting for the state employee pay plan.

Day after day, week after week, they gave up their lunch hour to stand in the halls of the legislature, talking to legislators and holding signs in support of the pay plan, House Bill 13. They did it for all state employees. "Without their efforts, state employees wouldn't have seen a pay raise last session," said MEA-MFT Field Consultant Larry Nielsen. "They showed how to organize, be effective, and have fun with it."

Christy Eckerle, president of the MHS local, accepted the award at the celebration.

"We are all so different in age, in experience, in political views," she said, "Republican, Democrat, and yes, there are even some creationists among us. I thank you for allowing our differences to make us strong. I thank God, who is the architect of justice and compassion, the ideals that we stand for in our union."

Phil Condon, Faculty Member of the Year: Phil Condon teaches environmental and nature writing at the University of Montana, where he directs the Environmental Studies department. He is also a former brick worker and member of the Bricklayers and Allied Craftsmen union. Before that, he worked in a packing house in Omaha as a member of the meat packers union.

"It was dangerous work," Condon said. "I learned the union steward was the one you talked to if something seemed unsafe."

In his current local union, the University Faculty Association, Condon has "served non-stop on the UFA board," said Dave Shively, outgoing president of UFA, introducing Condon at the Members of the Year celebration.

Condon has served as acting president, leading his local through a difficult time of transition, and chief negotiator and vice president for UFA. One of his main interests is collaboration between blue collar workers and conservationists.

"The right wing tries to divide us," he said. "But we really can have good jobs, good pay, and a good, clean, healthy environment."
Congratulations to all our MEA-MFT Members of the Year!