NEWS RELEASE

Montana Professional Teaching Foundation
1232 E 6th Ave., Helena, MT 59601

For immediate release: Sept. 26, 2016

Contact: Eric Feaver, Chair, Montana Professional Teaching Foundation, 406-442-4250

Kelly Elder, 2017 Montana Teacher of the Year, 406-324-2799 (work) or 406-461-1995 (cell)

Helena teacher Kelly Elder selected as 2017 Montana Teacher of the Year

Forsyth and Bozeman teachers are finalists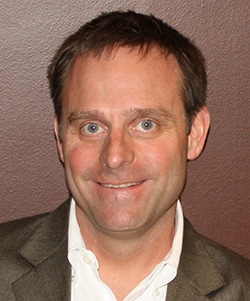 When Helena teacher Kelly Elder heard the cathedral bells near his home ring out at 8:00 last night, he figured it was a bad sign for him.

He knew that somewhere in the state, the new Montana Teacher of the Year would get a call at 8:00, and his phone hadn't rung.

Not yet, anyway.

Moments later, he got a call from 2016 Montana Teacher of the Year Jessica Anderson, congratulating him for being selected as 2017 Montana Teacher of the Year.

"I'm in shock," Elder said afterward.

To be selected as Montana Teacher of the Year is the highest honor a Montana teacher can receive. The Montana Teacher of the Year program annually recognizes a teacher who exemplifies the best in the teaching profession. The program is sponsored and administered by the Montana Professional Teaching Foundation, based in Helena.

Elder and other teachers nominated to be Montana Teacher of the Year went through an exhaustive application process. Three finalists were chosen for interviews, which took place Saturday. This year's selection committee included a representative from the governor's office, educators, a parent, and a high school student.

Philosophy and methods of teaching: Elder, who is a National Board Certified teacher, teaches sixth grade social studies at C.R. Anderson Middle School in Helena. He said his approach to teaching is to get kids excited, intrigued, and motivated.

"I have succeeded as a teacher if my students continually question and desire to learn more, listen to others, investigate on their own accord, and effectively communicate their opinions in verbal and written form," he said.

He works to give his students real-life experiences that connect them to the greater world around them. "We educators need to bring the world into the classroom, to shed light and share aspects of our world," he said.

Elder often collaborates with teachers of math, science, art, and other subjects. For example, in an interdisciplinary history project, he works with his team's English teachers to have students discover the stories behind Montana's beginnings. Students choose their own topics, then they contact and interview an adult expert from the community.

Students get research training at the Lewis & Clark Public Library and the Montana Historical Society. Then they share their final projects through a published research paper, complete with bibliography, and through a historic newscast filmed on the site of the student's choosing.

These generation-bridging projects connect students with their community and turn them into budding historians.

Dave Thennis, assistant principal at C.R. Anderson, said Elder constantly seeks new methods to connect learning to his students' own lives. "He works hard to mesh geography, culture, and the people of the world into the classroom experience," Thennis said.

"His enthusiasm is contagious," said C.R. Anderson English teacher Kelly Sheridan. At the end of last school year, Sheridan said, "there were a number of sixth graders who waited in his classroom to simply thank Mr. Elder for a great school year."

Elder said building solid relationships with his students, making them feel connected and valued, is the key to his teaching. He builds on these connections by serving as student council advisor, leading the Dynamos Mountain Biking Club, taking students on an annual camp-out, and organizing international trips to Central America.

"Teaching is more than my vocation," he said. "It is my life's passion."

As the 2017 Montana Teacher of the Year, Elder will serve as an ambassador for public education, represent Montana in the National Teacher of the Year program, and attend several national events along with the other state teachers of the year.

Finalists: This year's other two Teacher of the Year finalists are Kimberly Knoche, a family & consumer sciences teacher in the Forsyth public schools; and Nicole Vradenburg, kindergarten and first grade teacher at LaMotte School in Bozeman.

Teacher of the Year Celebration: Kelly Elder, Kimberly Knoche, and Nicole Vradenburg will be honored at a celebration October 20 in Helena. The Montana Professional Teaching Foundation sponsors the celebration in conjunction with the annual MEA-MFT Educators' Conference.
##

The Montana Professional Teaching Foundation, based in Helena, works to enhance the teaching profession and promote quality education in Montana. The Montana Teacher of the Year program is one of several projects sponsored by the foundation. Others include:
• Karen Cox Memorial Grants to help teachers who pay for classroom resources out of their own pockets
• National Board Certification & Candidate Support
• Presidential Awards for Excellence in Mathematics & Science Teaching
• Jim McGarvey Scholarships